O&O Defrag offers automatic defragmentation for households, advanced features for power users, and network application for corporations, guaranteeing long-lasting and optimum performance for all computers.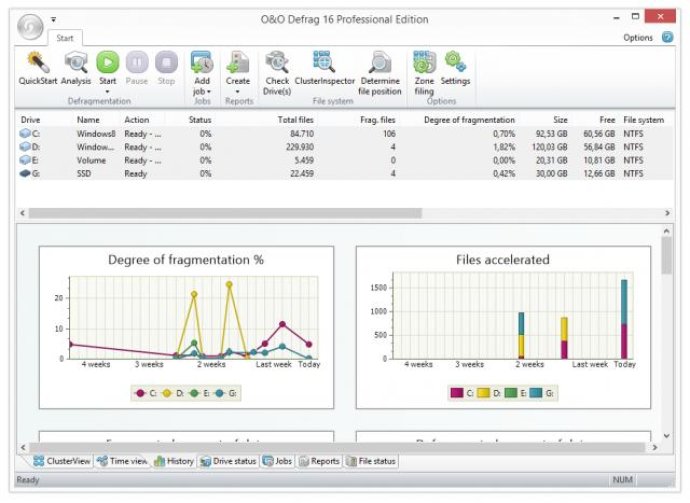 O&O Defrag is an exceptional software that provides a complete solution for every user. Whether you are a home user or a power user, this software caters to all your needs with its fully automatic defragmentation and professional settings. In addition, it is also useful for managing company networks.

One of the major benefits of using O&O Defrag is the sustainable and maximum speed it provides to any computer. Along with that, it also protects the mechanical parts of your PC and extends the lifespan of your hardware by carrying out regular defragmentation.

On top of its speed and protection features, O&O Defrag can also help rescue data in an emergency. This software increases the chances of successful data recovery by reconstructing intact and whole files much easier than fragmented files spread across the disk.

The defragmentation process is an interactive experience with O&O Defrag. It provides the user with a dynamic block view as well as a before-and-after view. This allows you to clearly see the extent of the optimizations to your system.

Furthermore, the software provides users with detailed statistics on how many files were corrected and how many were accelerated as a result of the defragmentation process. This allows you to track the success of your defragmentation efforts over weeks or months, and adjust the program settings according to your individual needs.

Overall, O&O Defrag is an exceptional software for users who want to optimize the speed and lifespan of their computers, rescue data in an emergency, and better understand how defragmentation works with their individual settings.
What's New
Version 16.0: Defragmentation time reduced by up to 40%, more vendors supported for TRIM optimization of solid state drives (SSDs), compatible with Windows 8, Windows 7, Vista and XP (all editions), User Interface optimized for quicker reaction times, unique Time View shows which action lead to what performance
Version 14.1.425: Optimizes any make of Solid State Drives (SSDs), Quick configuration for getting started easily, Optimized control of zoning, . O&O ActivityMonitor for managing resources, Improved automatic optimization in the background, Advanced management of . reports, 8 defragmentation methods .
Version 14.0: Optimizes any make of Solid State Drives (SSDs), Quick configuration for getting started easily, Optimized control of zoning, O&O ActivityMonitor for managing resources, Improved automatic optimization in the background, Advanced management of reports, 8 defragmentation methods
Version 11.5: protection from strong fragmentation through background monitoring and defragmentation, defragmentation of individual directories and files through the context menu, optimized file status view and enhanced block view, extensive defragmentation of system files (meta files), improved performance
Version 11: Protection from strong fragmentation through background monitoring and defragmentation, Defragmentation of individual directories and files through the context menu, Optimized File Status View and enhanced Block View
Version 8.6: Windows Vista compatibility (x32/x64). New built-in O&O Defrag ScreenSaver and optional 64-bit version
Version 8.5: New built-in O&O Defrag ScreenSaver and optional 64-bit version
Version 8.0: N/A