GSTECH Outlook OST to PST Freeware is a straightforward solution to repair corrupt OST files and recover them to PST. With a user-friendly interface, it offers a free trial to convert OST to PST effortlessly, making it the ultimate Free OST to PST Converter software.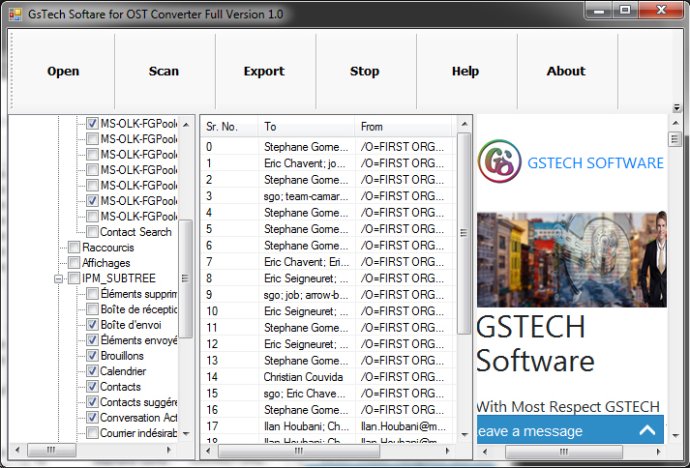 If you are an Offline OST user who has lost data, then you should consider using the GSTECH Microsoft Outlook OST to PST Freeware Converter Software. This software is an effective performer that can repair corrupt OST files and recover them to PST. If you have had trouble recovering lost data from an Offline Outlook file, this is the best utility you can find among several online options.

The GSTECH Free OST to PST converter software is particularly useful in situations where users have lost access to their data due to file corruption or any other cause. It is capable of executing well even in bad crises and can repair corrupted or ruined OST files while restoring OST emails instantly.

The software is designed to provide a unique platform for all IT OST users and a safer mode of Outlook OST data recovery and OST email conversion. The FREE OST to PST Converter Tool can recover OST files from all versions, including OST 5.0/ OST 5.5 OST 2000/ OST 2003/ OST 2007/ OST 2010/ OST 2013/ OST 2016.

With the Outlook OST to PST exporter tool, you can save emails in multiple formats, such as OST to PST/ OST to HTML/ OST to EML/ OST to MSG. This tool provides the best opportunity to recover Offline OST files and convert them to PST.

To know more about how the GSTECH MS Outlook OST to PST Freeware Tool works and its capabilities, you can explore its features and limits. It is an awesome functionality that was created for entire Offline OST users who have lost access to their data and want to get it back.

The software comes in two versions - a full version, which requires payment, and a free version that provides 25 emails saving at no cost. The full version provides complete OST file to PST file recovery with complete OST to PST conversion. It is an ultimate 100% safer mode to know the deeper functionality of the software and retrieve OST emails.
What's New
Version 1.0: New Release GSTECH Outlook OST to PST Freeware easily fix OST issues and Convert Outlook OST to PST Free