This Mozilla Firefox add-on is a free web harvesting application that can search and collect data, images, and files, structure information, and create mashups. It can extract, filter, sort, and format data, and includes a scraper editor.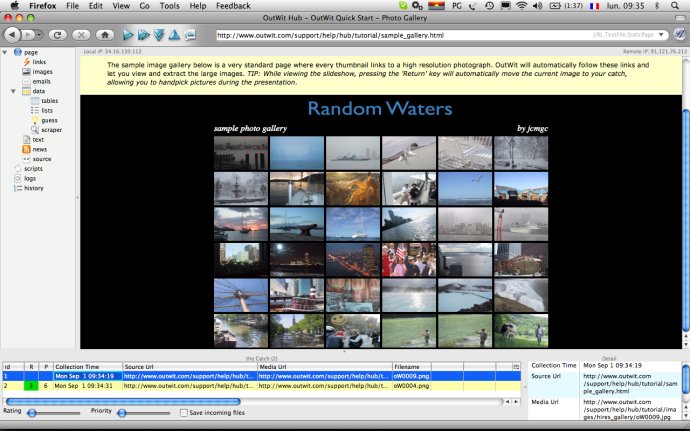 If you're in need of a versatile web collection engine, look no further than OutWit. Designed to run on Windows, MacOS, and Linux machines, this software allows you to gather data, media, contacts, or files from the internet with ease. Featuring the ability to find and download pictures directly to your hard disk or even display them in full screen slideshows, OutWit is a powerful tool for any web user.

One of OutWit's standout features is its ability to guess the structure of the data you want to extract and export it into a clean table for use in programs like Excel, CSV, and HTML. Even better, if you're looking to sort and organize your web collections or conduct your own searches, OutWit Hub is a free collection application designed specifically for this purpose. With a range of powerful recognition and extraction features, even those without advanced programming knowledge can easily create automatic agents to gather and format the information they need.

OutWit Hub is based on the OutWit platform and is a powerful free Firefox add-on. It is composed of a kernel that features a library of functions and an API that advanced users can use to build and distribute their own original tools. With its own unique features, scripts, scrapers, and directory of web sources, OutWit is a comprehensive web harvesting environment that can be used with ease by users of all skill levels.
What's New
Version 9.0.0.8: Multiple fixes and enhancements.