PassFixer 7z Password Recovery Software effectively retrieves lost RAR file passwords, allowing for effortless password recovery. This software guarantees enhanced security while recovering passwords, enabling retrieval of passwords with any character combinations.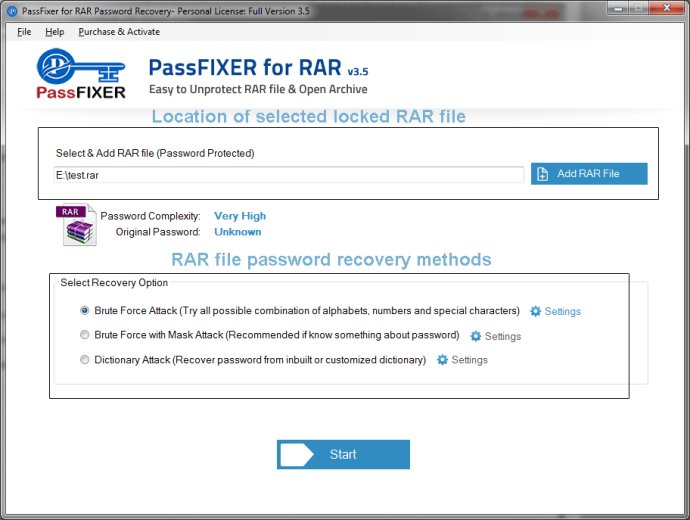 PassFixer has introduced a solution for users who have lost their RAR file passwords. They have developed the RAR Password Recovery software, which offers a simple way to retrieve forgotten 7z file passwords. This utility is suitable for both technical and non-technical users who want to unlock RAR files.

The PassFixer RAR Password Recovery software comes with several smart features:

1. It can recover RAR file passwords efficiently and unlock password-protected RAR files.
2. The software supports three different methods for RAR password recovery: Brute Force, Mask Attack, and Dictionary Attack.
3. The Brute Force Attack method can be used to recover completely forgotten RAR file passwords of all character combinations.
4. With the Mask Attack method, users can recover only the forgotten characters of lost RAR file passwords.
5. The software also has a dictionary attack method, which can recover RAR file passwords made up of English words, using the software's inbuilt dictionary file.
6. The RAR file password recovery process is completed without modifying the original data.
7. The software can recover numerical, alphabetic, symbolic, and other character passwords of RAR files.
8. It provides a smart Graphical interface, ensuring a flawless and easy experience for users during the RAR password recovery process.
9. Users have the option to copy the recovered password to the clipboard with just a single click.
10. The software is compatible with various editions of Windows OS, such as Win 11, 10, 8.1, 8, 7, XP, Vista, and others.

To try out the software, users can avail of the free demo edition of the RAR password recovery tool. This allows them to recover the first three characters of the RAR file password free of cost.
What's New
Version 3.5: New release best RAR Password Recovery Software.