TrillianPasswordDecryptor is free software that recovers account passwords stored by Trillian or Trillian Astra, providing instant access to user accounts.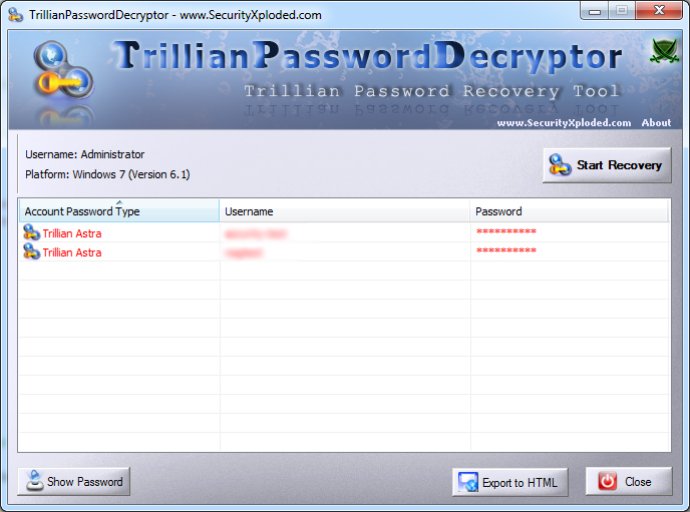 Trillian Password Decryptor is a free software designed for instant recovery of account passwords stored by Trillian or Trillian Astra. This software is specially designed for users of Trillian, which is the most popular universal messenger with over 450 features. It supports almost all IM clients including Gtalk, Windows Live, AIM, Yahoo, ICQ, Facebook, Twitter, and many more.

Trillian Password Decryptor is programmed to automatically detect the correct password location based on the installed version of Trillian, and it recovers the passwords instantly using the right decryption method. It eliminates the need for complicated procedures and saves you time.

One of the standout features of this software is its ability to instantly decrypt and recover stored encrypted passwords by Trillian. On successful recovery, the messenger account type, username, and password are displayed for quick and easy accessibility. This feature saves time, effort, and the risk of losing valuable information.

Trillian Password Decryptor also offers a sorting feature to arrange the displayed password list by username and password, making it easy to search through hundreds of entries. Additionally, users can save the recovered password list to HTML/XML/TEXT/CSV file, which provides convenience and accessibility.

Finally, Trillian Password Decryptor installer allows for a local installation/uninstallation process for the application. It works on most Windows platforms starting from Windows XP to the new Windows 10.

In conclusion, Trillian Password Decryptor is a handy software that offers instant password recovery for Trillian and Trillian Astra users. Its sorting feature, password recovery, and ability to save recovered password lists to various file formats make it an excellent tool for efficiently managing passwords.
What's New
Version 6.0: Mega 2019 release to support login password recovery from latest Trillian Messenger