This software allows users to create secure personal databases for managing private data, such as passwords. AES-256 encryption is used, requiring a master password for access. Only those with the correct password can access the database, ensuring maximum security.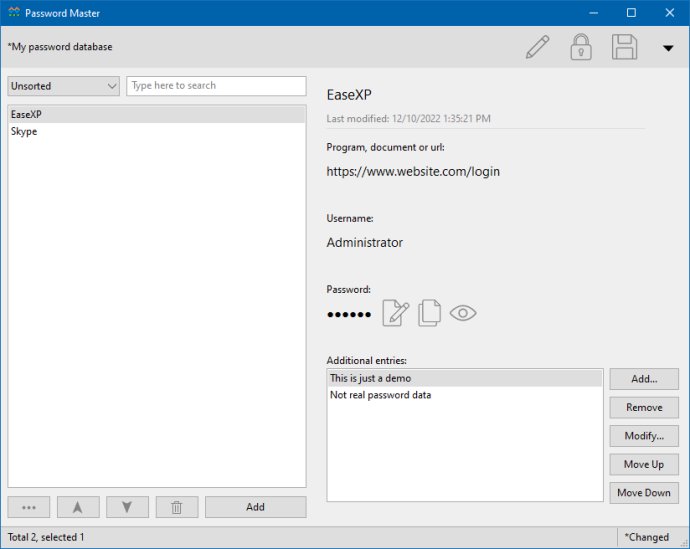 Password Master is a fantastic and reliable software that allows users to create personal databases to manage their passwords and private data. The databases are encrypted using the powerful AES-256 encryption method, along with the master password you choose. This ensures that your data is safe and secure, and available only to those who have the correct master password.

With this software, you can create as many databases as you want and transfer data between them freely. Thanks to its local storage capabilities, your databases are saved on your disks alone, which eliminates the possibility of leaking your passwords or private data on the internet. You can trust Password Master to keep your data safe, secure, and easily accessible whenever you need it.

One of the best features of this software is its easy-to-use password generator. This tool allows you to create strong passwords that are hard to guess or hack. It saves you the trouble of coming up with a new password every time you need one. With Password Master, you can create secure and unique passwords with just a few clicks, and have peace of mind knowing that your data is safe from hackers and other malicious individuals.

Overall, Password Master is an excellent option for anyone looking to manage their passwords and private data effectively. Reliable encryption, local storage, easy-to-use password generator, and many other features make Password Master stand out among its competitors. Highly recommended for anyone who wants a simple and effective solution for managing their sensitive information.
What's New
Version 2.0: N/A