This payroll software allows payment by any period and covers various types of workers. It produces Checks, 941, W2s, and 1099-NEC forms and provides many reports. With over 30 years of experience, it is the easiest and most user-friendly software. It won the 2008 SIC award.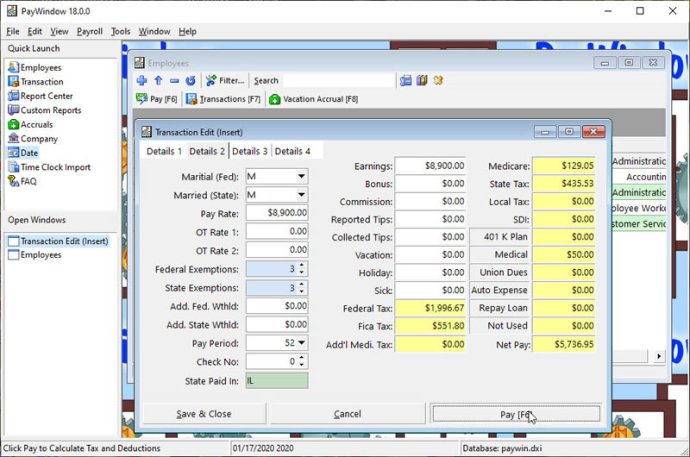 The PayWindow Payroll System is a software application that has been named as the winner of the Best Business Application Award and the People's Choice Best Business Application Award at the Shareware Industry Conference Awards. This application is designed to provide users with a hassle-free and stress-free payroll experience.

This software is equipped to handle all payroll processes for different types of employees, including hourly, salaried, commissioned, and non-employee workers. It enables you to print checks, 941, W2s, 1099-NEC forms, and reports in one place. In addition, the application is equipped with built-in data backup and restore with file compression.

PayWindow Payroll System prides itself on ease of use. Using the software, you can pay an employee in as little as three clicks of the mouse! Password protection is available to ensure maximum security of sensitive information.

This payroll system is backed by over 30 years of experience and is highly user-friendly. No accounting knowledge is required to perform payroll tasks independently in minutes. The software is equipped with easy-to-follow online tutors that guide users through key processes.

The application comes with Federal and State tax tables included and the ability to edit them. It includes an extensive report center that offers different types of reports, including employee reports, employer's totals report, cost accounting reports, tax liability reports, and payroll history reports. There is even an option to export data for GL importing and other programs like QuickBooks.

In conclusion, PayWindow Payroll System is an easy-to-use software to manage payroll with sufficient features to help users complete a range of payroll tasks, and it offers excellent support for all types of legal requirements.
What's New
Version 20.0.10: This is the Annual Upgrade for 2022.