This software enables free PC-to-PC and low-cost PC-to-phone/fax calls using the internet or telephone networks. It transforms the computer into a versatile communication tool, acting as a VoIP/SIP phone, ISDN phone/fax, voicemail, SIP server/registrar, VoIP switch/PBX, etc. It also supports USB phone/headset.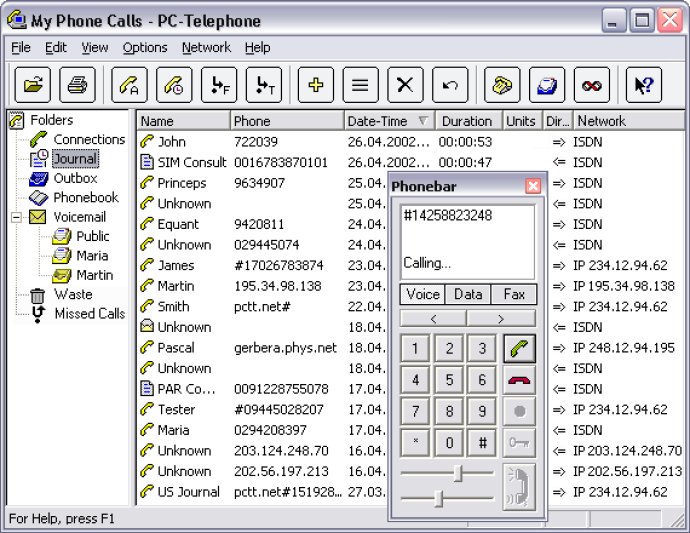 PC-Telephone is a reliable and versatile SoftPhone that can transform your computer into a full-featured telecommunications hub. This standalone software application enables you to make phone/fax calls and engage in file transfers over various communications networks, including the Internet (IP/SIP), Integrated Services Digital Network (ISDN), and Public Switched Telephone Network (PSTN).

With PC-Telephone, you can easily switch between different communication channels and devices, all from the comfort of your PC. Whether you need to make a call over the Internet or through a traditional phone line, this software has got you covered. You can use it as an Internet/VoIP telephone, ISDN telephone, fax machine, voicemail, VoIP switch/PBX, and much more.

One of the standout features of PC-Telephone is its ability to support free PC-to-PC and cost-effective PC-to-phone/fax calls over Internet or ISDN/PSTN. The software also boasts high quality voice and seamless integration with any USB phone device available on the PC.

PC-Telephone comes loaded with a range of useful call management tools. These include caller ID, CLIP/CLIR, audio conferencing, call answer, call transfer, call forwarding, call waiting, call accounting, call recording, and more. This makes it a great choice for businesses, call centers, and private individuals who need reliable and efficient call management.

All in all, PC-Telephone is an excellent SoftPhone that offers a wealth of features and functionalities. Whether you need to make international calls, send faxes, or manage multiple lines at once, this software is definitely worth checking out.
What's New
Version 7.2: Full SIP support, Works also as SIP server VoIP Switch/PBX, Free PC-to-PC calls, Cheap PC-to-Phone/Fax, ISDN phone/fax, USB phone support, Caller ID