Cost-effective and user-friendly, message broadcasting software enables you to effortlessly transmit personal or official SMS, job alerts, invitations, events notifications, and greetings from your pocket PC to handheld devices.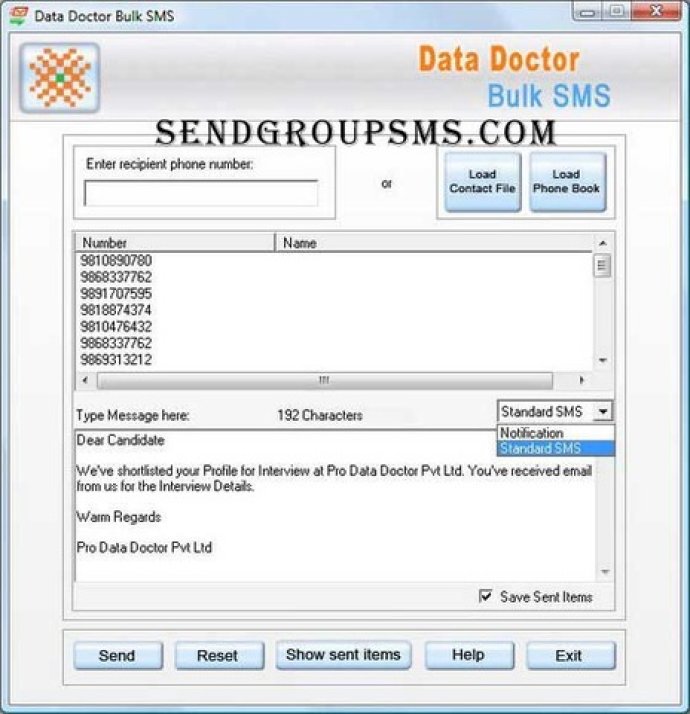 If you're looking for a way to send bulk messages from your Pocket PC to your friends, family, or colleagues, then look no further than this messaging software. It allows you to send unlimited bulk SMS messages to any mobile phone or network with just one click.

Even if you're a business traveler without internet access, this software provides a global messaging gateway service, so you can still send messages in bulk. This group text messaging tool works on all Microsoft Windows operating systems, including XP, NT, Vista, ME, 2000, 2003, and 98. It even supports Unicode character sets.

The bulk SMS messaging software supports all major brands of GSM mobile phones, including Motorola, Nokia, Sony Ericsson, Samsung, and LG. This message broadcasting utility provides a convenient way for employers to improve communication with their employees.

Not only does the bulk texting utility support major types of Pocket PC mobile phones, such as T-Mobile MDA, Asus Pocket PC Phone, Carrier Devices i-Mate, Hitachi Pocket PC Phone, HP iPAQ, Samsung Pocket PC Phone, Sharp W-Zero3 Pocket PC Phone, Siemens, and Motorola MPx200, it also allows you to save records of all sent messages for future reference.

With this Pocket PC to mobile phone text messaging application, you can send unlimited bulk text messages to one or multiple contacts from your Pocket PC.

Features of this mobile text messaging application include the ability to create and send text messages to groups of friends, corporate text messaging software that supports SMS in any language which supports Unicode, and compatibility with all Windows-based mobile phone handsets and PDA devices.

Overall, this messaging software is an easy and efficient way to stay connected with your contacts, no matter where you are or what type of device you're using.
What's New
Version 2.0.1.5: Added support for Windows Vista Business, Ultimate