PDF Super Toolkit is a PDF tool collection that enables PDF modification and conversion. With this software, users can split and merge PDF files, as well as extract text and images.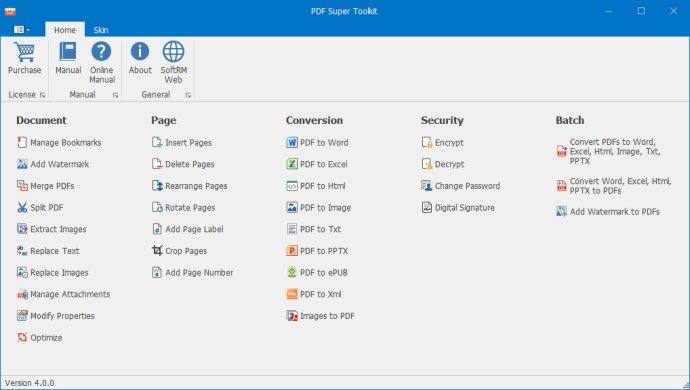 PDF Super Toolkit is an all-in-one software that comes packed with a variety of PDF tools to help you modify and convert your PDF files effortlessly. The software allows you to split and merge PDF files, extract images and text from PDF files, as well as encrypt or decrypt documents with passwords, among other functions.

One of the notable features of this toolkit is its ability to add or delete bookmarks and move them to new locations. The software also lets you set destinations for existing bookmarks. Additionally, you can add watermark-related features, including multilines, images, or text bookmarks. You can watermark these features on specific pages.

PDF Super Toolkit enables you to merge multiple PDF files while saving the merged document as a new PDF file. Moreover, you can easily extract specific pages from a PDF document and create a new PDF file. The software lets you extract images from PDF documents to image files, replace text or images in a PDF document, and manage attachment files of a PDF by adding or deleting attachments and extracting existing attachments to files.

When it comes to manipulating PDF files, PDF Super Toolkit offers a wide range of features, including modifying properties of PDF documents, inserting or deleting pages, rearranging and rotating pages, and cropping pages. You can also add labels or page numbers to PDF files.

PDF Super Toolkit makes it easy to convert PDF documents to different file formats, including Word, Excel, Html, Txt, PPTX, ePUB, and XML. Furthermore, you can convert pages of a PDF document to images.

Another useful function of PDF Super Toolkit is its ability to create PDF files from various image files. The software also supports multipage TIFF files.

The software also provides options to encrypt or decrypt PDF documents and add specified security settings to the PDF document. You can change and manage owner passwords or user passwords of PDF documents effortlessly. Additionally, the software lets you sign PDF documents with PFX files.

Lastly, the software provides the option to batch convert PDF files to Word, Excel, Html, Image, Txt, and PPTX files. You can also batch convert Word, Excel, Html, and PPTX files to PDF files. Overall, PDF Super Toolkit is an excellent software for managing, modifying, and converting PDF files.
What's New
Version 4.0.0: Bug fixing