This PDF viewer software is fast and versatile, allowing you to open, view, print, and rotate PDF files. Additionally, it can convert PDFs to a range of different file types, including web pages, JPGs, and GIFs. Best of all, this viewer offers new Windows 11 features for a more seamless user experience.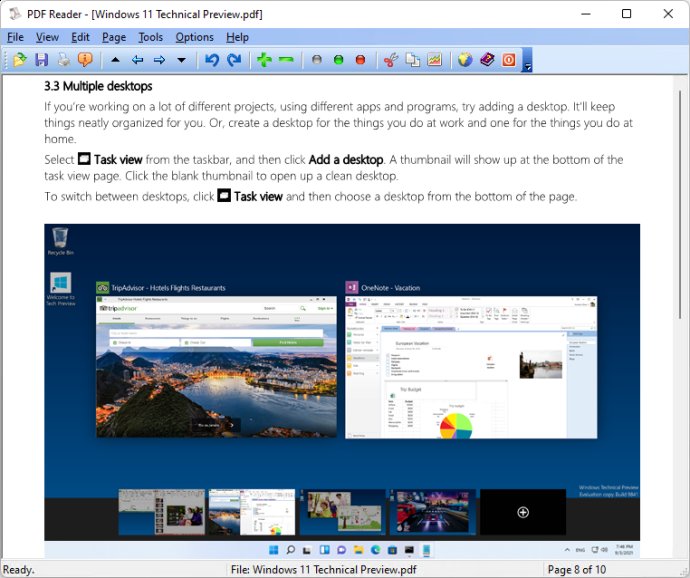 PDF Viewer for Windows 11 is an alternative PDF reader that provides enhanced capabilities, versatility, and functionalities as a native application. As Windows 11 comes with its own built-in Microsoft Edge web browser, users might face some challenges with PDF documents. The Edge browser loads various components irrelevant to PDF, and opening the first page of PDF documents can be slow. For those searching for a speedy PDF viewer with more features, the PDF Viewer for Windows 11 is an excellent choice.

One of the major features of the PDF Viewer is its ability to open, view, read, and print Adobe PDF files of all versions. It is a blazing fast PDF reader that offers three different reading modes - Fit Page, Center Page, and Continuous view - and enables users to navigate through their documents with ease. In Continuous mode, users can swipe left and right, use arrow keys, or pop-up browser-like navigational controls to move through the document. For Center Page and Fit Page mode, the viewer behaves like a traditional Windows application and uses a vertical navigation style. Users can move through the document by pressing PAGE UP or PAGE DOWN keys, or by utilizing the scroll bars on the right side of the application.

Zooming in and out of documents is simple with the PDF Viewer. Users can use the Delete key to zoom out and the Insert key to zoom in. Optional document rotation, both clockwise and anticlockwise, can help users view the document from multiple angles. The enhanced mouse wheel scrolling makes scrolling through the document even more effortless.

The PDF Viewer for Windows 11 is also useful for converting PDFs to other file formats like TXT, JPG, GIF, PNG, BMP, EPS, WMF, EMF, TIFF, and HTML. The PDF document can be viewed in a slide show or full-screen mode, offering a truly immersive experience. Additionally, the PDF Viewer supports 86 different languages and provides full Unicode support for worldwide languages.

Overall, the PDF Viewer for Windows 11 is an exceptional PDF reader that offers lightning-fast performance, versatile functionalities, and a smooth user experience. It is an excellent choice for users who primarily rely on the Windows 11 desktop experience and need a competent PDF reader to view, navigate, and convert their documents with ease.
What's New
Version 1.1: Add continuous view and page scrolling support for Windows 11 64-bit