PDF Watermark Remover is an efficient tool for eliminating embedded watermarks such as text, logos, banners, stamps, signatures, etc. This software allows users to promptly remove watermarks in their PDF files while preserving their original layout, formats, and content.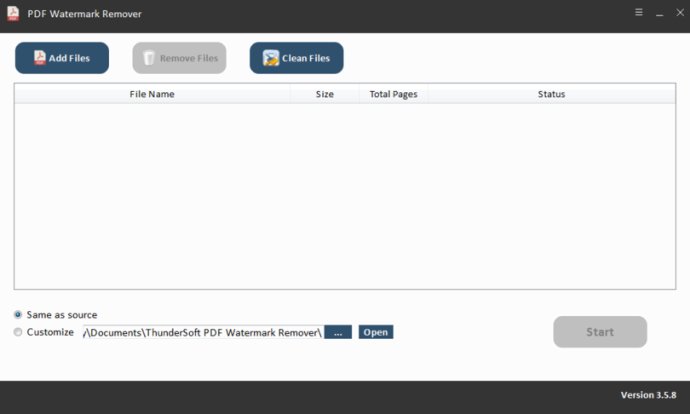 PDF Watermark Remover is a fantastic software that allows you to remove embedded watermarks from PDF files conveniently. Whether the watermark is text, logo, banner, stamp, or signature, this tool can get rid of them all effectively. With its powerful decryption technique, the software quickly removes watermarks while retaining the original layout and formats of your PDF files.

One of the best things about the PDF Watermark Remover is that it offers an extensive range of features that simplify the process of removing watermarks. For instance, the software allows you to remove both text and image watermarks. Additionally, it supports PDF documents created from Adobe Acrobat or other third-party PDF creation programs.

Another significant advantage of this software is its ability to support batch operation. This means that you can process multiple PDF files simultaneously, saving you lots of time and effort. Overall, if you're looking for a reliable and user-friendly software to eliminate watermarks from your PDF files, the PDF Watermark Remover is an excellent choice.
What's New
Version 3.5.8.1205: Fix some bugs.
Version 3.5.8.508: Fix some bugs.
Version 3.5.8.111: Fix some bugs.
Version 3.5.8: New release, a useful tool to remove PDF watermarks.
Version 1.0.1: bugs fixed.
Version 1.0.0: N/A