PDF-XChange is a specialized software tool for Windows that enables users to create compact PDF files with ease. It is designed for those who want to reduce the file size of their PDFs significantly, enabling efficient usage. This software is user-friendly and highly efficient.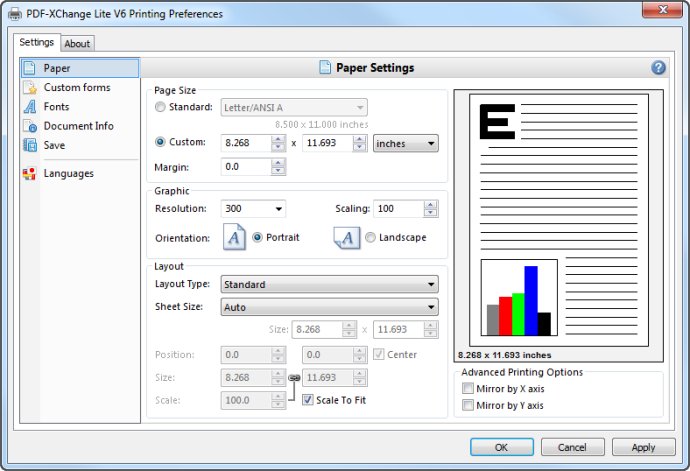 PDF-XChange V3 is a highly efficient and user-friendly software tool designed to create the smallest PDF files available from any Windows application software. It is the junior member of our highly praised PDF-XChange range of software tools that offers professional quality PDF generation at a low price.

The latest version of PDF-XChange V3 comes with a New User Interface that offers Simple and Advanced modes to enhance user convenience. It also boasts of added LZW/JBIG/JPEG200 Compression Support, Email PDF on Completion (includes MAPI and SMTP support), and Job Management feature.

With the Job Management feature, users can batch to temp file(s) before conversion to PDF and mount multiple source pages to a single PDF page (max 16 pages to 1 PDF page). The software also offers Acrobat 8 Format Support (1.3.1.4,1.5 1.6 1.7 PDF Format Support) and an option to set PDF File - page opening characteristics.

For enhanced down-sampling options for Internet PDF downloading, the software offers multiple bookmarks per page (max 256) Text or Images - from any software - not just MS Office. Users can save different User or Job settings as User Profiles and reuse them for differing document types.

PDF-XChange V3 supports full Chinese, Japanese and Korean Font, and Multi-Language support for User Interface. There is a full PDF Manual, ToolTips, and Windows Help file available. Overall, PDF-XChange V3 is an excellent software tool for creating professional quality PDF files at a low price.
What's New
Version 6.0.319.0: PDF-XChange Lite