Pendulum Clock 3D is an impressive screensaver with a working clock mechanism viewed from three different angles, ideal for clock and 3D effect enthusiasts. This modern screensaver is likely to impress everyone due to its realism and uniqueness.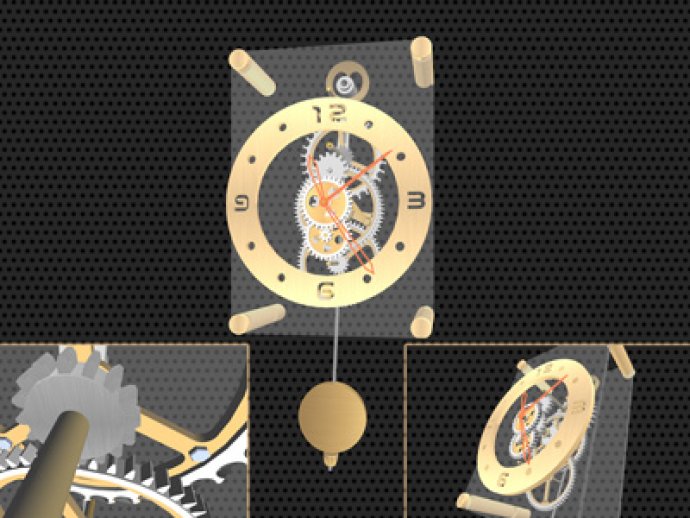 If you're into screensavers, clocks, and 3D effects, then you need to check out the Pendulum Clock 3D screensaver. This amazing piece of software will impress even the most discerning of users with its realistic and unique design. With this screensaver, you'll see the analog clock mechanism from three different points of view. It's a real working clock model with pendulum motion and yoke switching seconds.

This screensaver even features 12 gears made of copper and steel that are rotating with a hook. The clock face is gold with cutted numbers and the clock body is made of glass, allowing everyone to see its intricate mechanism. Each gear has its own number of teeth to ensure it shows the correct time. The interesting background design isn't annoying, and the light effects are smooth, while the colors are gold, red, and grey.

The hour, minute, and second clock hands are all present and will show you the exact time. We're confident you'll appreciate the balance of this free 3D screensaver. It's the perfect way to surprise your friends, co-workers, relatives, and kids with your PC desktop decoration. Don't hurry through your day, instead feel the time and meditate with the Pendulum Clock 3D Screensaver!

Finally, it's worth mentioning that this screensaver is compatible with any screen resolution and any screen ratio. So, whether you have an old CRT monitor or the latest 4k display, the Pendulum Clock 3D screensaver will work seamlessly. We highly recommend downloading it today and adding it to your screensaver collection.
What's New
Version 2.0: New Release