Perpetuum Mobile is a software that showcases a rotating space filled with up to 500 balls that are in constant movement and rotation. The ball movement can be influenced by gravity and impulse, resulting in special effects.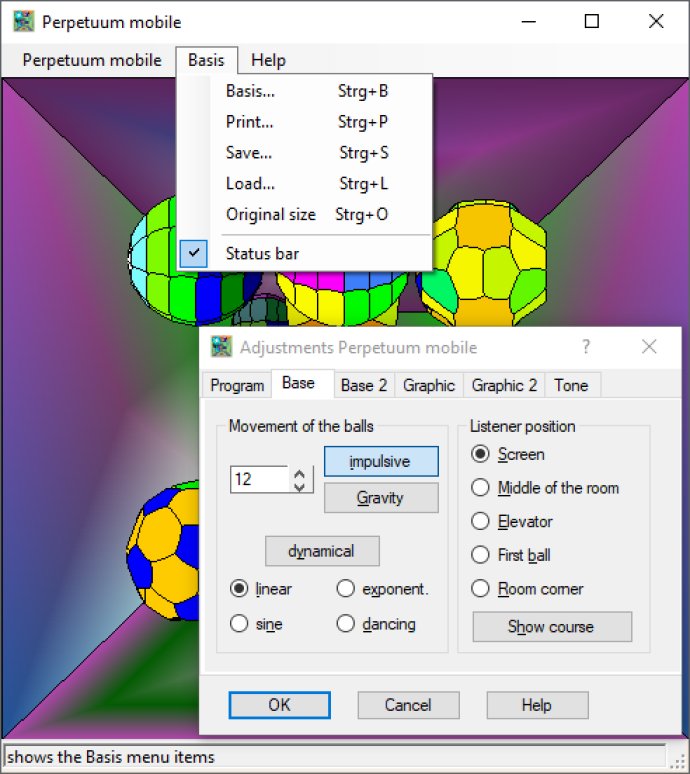 This software, Perpetuum mobile, offers an incredible display of constantly moving and rotating balls in a showroom that can rotate around all axes. The sound output of this software creates a breathtaking piece of music that is equally swift from start to finish.

The software allows up to 500 balls to be shown at once and the movement of the balls can either follow the rules of gravitation or be manipulated impulsively. Spectators can choose their preferred viewing position, whether it be the screen, the middle of the room, a ball, an elevator, or a room corner, to experience special visual and acoustic effects.

Using six dialog pages, users can plan diverse attitudes and save them in a file for future use. Moreover, there is a small reaction game that can also be started for added entertainment.

Overall, Perpetuum mobile is an exceptional software that offers an immersive experience with its stunning visuals and music, making it a must-have for anyone looking for a captivating display.
What's New
Version 7.0: showroom rotating around all axes with a form-independent size.