Healthcare Barcode Generator Software enables effortless creation and customization of high-quality barcode labels for the healthcare industry. The software allows easy printing of these barcodes on various healthcare items such as medicines, drugs, and instruments.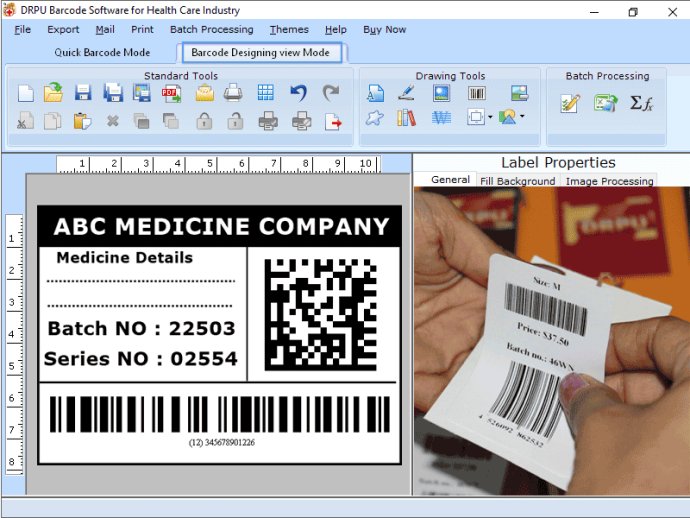 I recently used a Barcode maker software designed specifically for Hospitals and Clinics, and I have to say, I'm thoroughly impressed. The software has an extraordinary feature that enables users to efficiently design and print a large number of barcode labels, tags, stickers, and coupons with unique values. The best part is that the software supports sequential series, constant value series, and random variable series.

This Barcode generator tool is a valuable application that caters to various small and large-scale healthcare industries, such as hospitals, clinics, blood banks, pharmacies, and more. The software presents a range of healthcare industry applicable barcode fonts that include Coda bar, Code 128, Code 128 SET A, Code 128 SET B, Code 39, Code 39 Full ASCII, UCC/EAN-128, UPCA, UPCE, Aztec Font, DataMatrix Font, PDF417 Font, and more.

What makes the software more interesting is that it offers different settings and options to customize barcode labels or tags. Users can change or edit label properties, such as label shape to change barcode label in Rectangle, Rounded Rectangle, and Ellipse. It also provides the capability to modify the background color of the barcode label, Barcode Properties to change the Value, Size, Font, and color of the barcode. The software is designed to produce high-quality and standard barcode labels for medical services.

For more products like this, users can visit the official site at barcodemaker.org. This Medical business barcode label creator application also offers flexible image printing options that enable users to produce multiple medical product barcodes. The software presents Batch Processing Series options to generate multiple barcodes, and users can use the Sequential Series, Constant Value Series, and Random Series options to create a list of barcodes with different values.

Lastly, users can design and create Barcode Labels with Texts, Pictures, Signature, and other objects using advance Barcode Designing View. Users can save the created barcode labels and tags as PDF or as images in different formats like JPG, PNG, WMF, Bitmap, etc. Overall, the software offers excellent features and benefits that can help any healthcare business run more smoothly and efficiently.
What's New
Version 9.2.3.1: Added Support for Latest Windows 11 OS Updates. Added Support for High DPI resolutions Compatibility. Added new Barcode Technologies. Added additional Batch Processing Features to import Data from Excel Sheets.