Photo Calendar Creator is a versatile software for making personalized photo calendars. It offers templates for wall, desk, pocket, spiral-bound, and booklet calendars, as well as weekly and monthly planners. Users can choose from 250 design templates, insert their own photos, and customize holiday dates.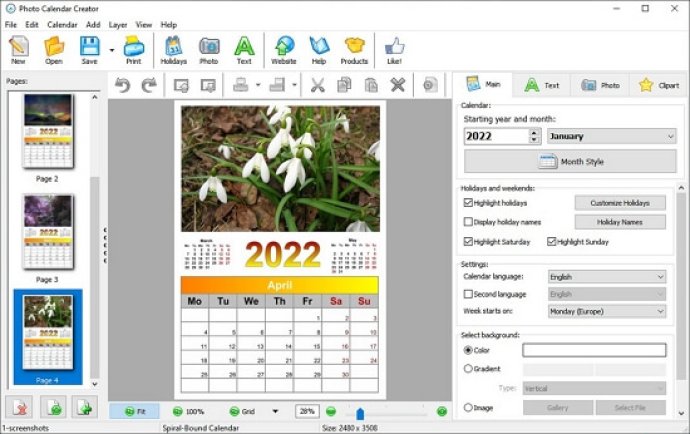 Photo Calendar Creator is a top-of-the-line software that enables users to create personalized calendars of any type, including annual, monthly, wall, desk, pocket, booklet, weekly, and monthly planners. It is a fantastic tool for individuals who want to send heartfelt messages to family members, friends, colleagues, and clients on special occasions such as birthdays, anniversaries, Christmas, Easter, and other holidays. With Photo Calendar Creator, users can also create bespoke promotional calendars with a business logo and slogan.

This tool makes calendaring easier and faster than ever before with its vast collection of design templates, numbering up to 250. With just a few clicks, users can create professional-looking calendars in mere minutes. All you require is to select a calendar model, add photos, and modify the page properties to begin the design process. It is also possible to personalize the beginning year, month, add special holidays, and pictures to each calendar block.

To elevate the calendar's quality, the software enables users to include text, clipart, Moon phases, and pictures, which they can modify using frames, masks, and shadows. Photo Calendar Creator offers numerous groups of holidays, such as corporate, family, religious, or national.

Users can create a custom holiday list using an integrated in-built editor. It is also possible to design calendars in any language. Moreover, the software offers a month template editor that enables users to customize a calendar's appearance, sizes, and font style, weekdays, weekends, holidays, and empty cells.

Photo Calendar Creator offers different storage options, such as JPEG, PNG, TIFF, or PDF, and allows sharing the finished product via social media, blogs, websites, and email. Additionally, users can export the output to Photoshop, save in CMYK for printing, transform the calendar into desktop wallpaper, or print it directly from the software.

Photo Calendar Creator is, in summary, an excellent tool for designing customized calendars that are perfect for personal gifting or professional promotional use. It is fast, versatile, and easy-to-use.
What's New
Version 16.0: 15 new calendar design templates for 2022.
Convenient month tables with lines for notes.
Stylish calendar cells with rounded corners.
Handy buttons for photo rotation.
Lots of minor improvements.
Version 15.0: New calendar designs for 2021.
Import birthdays & anniversaries from CSV.
Add photos for cells in the holiday database.
Holiday database updated (up to 2025).
Version 14.0: New calendar designs for 2020.
Display age for birthdays/anniversaries.
Add week numbers to calendar grid.
New month grid templates.
Zodiac signs clipart.
Version 12.0: 40+ awesome new calendar templates. Monthly planners for family or couple. Perpetual calendar designs for any year. Weekly planners with 'single column' layout. Add 2 or 3 holiday names to a single cell. Holiday database updated (up to 2024). Jewish holidays added.