Photo Lottery Director is a software that enables users to create and organize their own photo lottery. The application allows for up to 99 scenes with a specific sequence, and the option of drawing one or multiple winners per scene.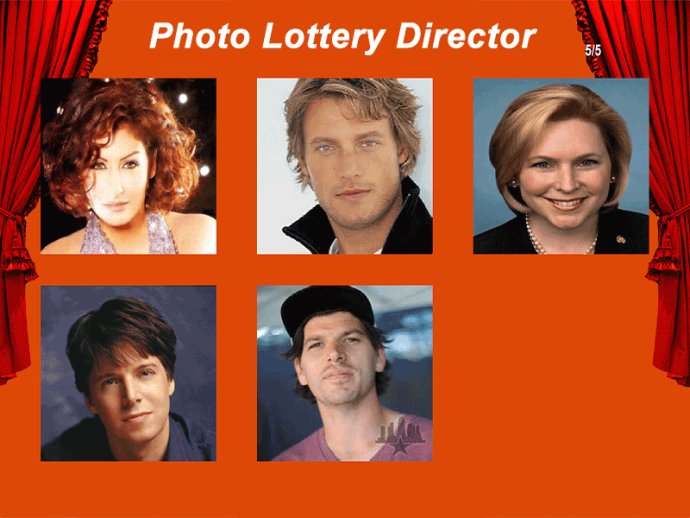 Photo Lottery Director is a software that allows you to create and manage your own photo lottery. With this program, you can create a lottery that contains up to 99 scenes with a certain sequence, each scene having its own title, subtitle, picture, music, photo group, and more.

One or more winners can be drawn in each scene, and you can change the size or position for each winner photo in each scene. You can create a lottery with different styles, making it attractive and effective. A demo lottery is included in the installation package to help you learn how to create a lottery.

There are many features available in Photo Lottery Director, including the ability to create and manage unlimited lotteries. Dual monitor support is included, and each scene has its own music and picture files. The supported audio formats include MP3, WAV, WMA, MP4, M4A, AC3, OGG, FLAC, AAC, AU, VOC, and M3U. The supported picture formats include BMP and JPG.

Each scene has its own title, subtitle, and bottom text with different font and color. Winners can be drawn from different photo groups in each scene, and you can change the layout of rolling photo and winner's photo, including size and position. Rolling Photo makes the lottery even more attractive, and there is an optional animation before winners are displayed.

You can draw all or part of the winners every time, and if the lottery is terminated for some reason, you can continue it later. You can display winners already drawn in the current scene, and winner photos will be excluded in the next scene. Preview is supported, allowing you to check if all data is set correctly.

Other features include the ability to add photos from a folder, export winner photos to a folder, and reuse a lottery once it's created. Winner photos are saved to the database, so you can query them at any time. Overall, Photo Lottery Director is a powerful and user-friendly software that allows you to manage and create your own photo lottery with ease.
What's New
Version 5.9.8: Windows 10 is compatible
Version 5.9.0: This is a bug-fixing release