This software demonstrates physics experiments and phenomena with computer animations and theoretical explanations.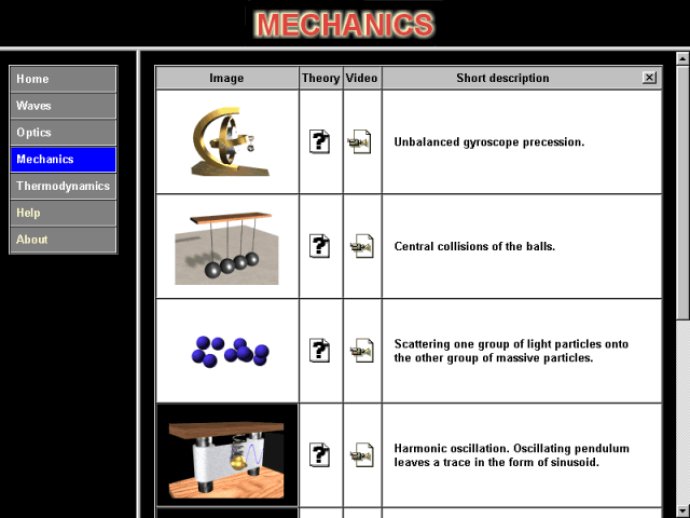 I recently tried out an amazing software called "Physics Animations", which provides users with computer animations of some of the most interesting experiments and phenomena in the world of physics. This software covers a wide range of physics concepts, including waves, mechanics, optics, thermodynamics, and more.

What impressed me the most about this program was how every animation is accompanied with a detailed theoretical explanation. This was extremely helpful in providing me with a deeper understanding of each physics concept. I was also pleased to find that the program was prepared in CHM-archive format, making it easy to navigate through hyperlinks and search for specific topics.

Another great feature of "Physics Animations" is that the archive contains both small GIF-animations and highly compressed big video-animations (AVIs). For internet users, the program is designed to load the AVIs automatically while working online. For those who prefer to use a CD or DVD, a high-quality version of the program is available for order. The disk version contains video clips such as AVIs and GIFs, as well as 1-minute long video clips compressed in MPEG-2 format.

Overall, I was impressed with the quality of "Physics Animations". It is an excellent option for anyone interested in learning about physics, regardless of their experience level. The DVD version of the program is also a great option for teachers who want to bring these concepts to life for their students, as it is playable on both TV DVD-players and computer DVD-players. Highly recommend!
What's New
Version 4.21: N/A