This smart phone forensic tool extracts relevant data from Pocket PC and PDA devices, including hardware, software details, SMS, call records, and more. Its investigation software generates reports rapidly and is compatible with all windows mobile phones and PDA devices.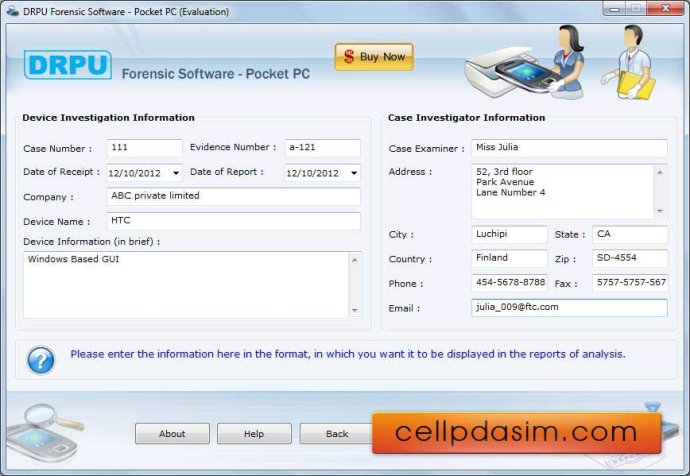 If you are looking for an affordable and integrated data extraction utility for your PDA cell phones, handheld devices or Windows mobiles, look no further than the Pocket PC investigation tool. This mobile phone data inspection software can extract data like sent and received messages, dialed and received calls, phone book information, call logs and installed applications, making it a great tool for both technical and non-technical users alike.

Additionally, this PDA data extraction utility can also provide information like windows registry records, SIM IMSI and Mobile IMEI numbers, battery status, signal strength and more, making it a great all-in-one solution for all of your device investigation needs.

The cell phone investigator offers an interactive and user-friendly graphical user interface to quickly and easily produce reports of captured information in HTML or text format. The smart phone examiner works with all inbuilt mobile technologies such as AT+CIMI, AT+CSQ, AT+CGSN, AT+CPBR, AT+CBS, and AT+CPBS.

The Pocket PC device surveillance utility also supports all pocket pc brands such as Aico, BlackBerry, BenQ, i-Mate LG, Motorola, Samsung, Palm, Creative, Panasonic, ViewSonic, Sony Ericsson, HP iPAQ hw6515, and HTC Amadeus reference platform. Furthermore, this cell phone inspection software is compatible with various windows operating systems like 98, ME, NT, NT4.x, 2000, XP, 2003, Vista Starter, Vista Home Basic, Vista Business, Vista Enterprise, and Vista Ultimate, making it an ideal option for a wide range of users.

With features like the ability to pull out all details from a windows mobile device, record extracted data in html/text files, and produce reports, the Pocket PC forensic software makes for a valuable tool for forensic, scientific, and other types of investigation. Additionally, the smart phone monitoring tool supports all types of mobile inbuilt technologies, windows operating systems and Pocket PC brands, making it a great all-in-one solution for those in need of an affordable, integrated data extraction utility.
What's New
Version 9.0.1.5: Added support for all latest Pocket PC, PDA brands