PPT Repair Kit is a powerful, user-friendly tool for repairing and restoring Microsoft PowerPoint files that have been damaged or corrupted. With this software, users can quickly recover lost data and the results of their work, ensuring that important presentations are always intact and accessible.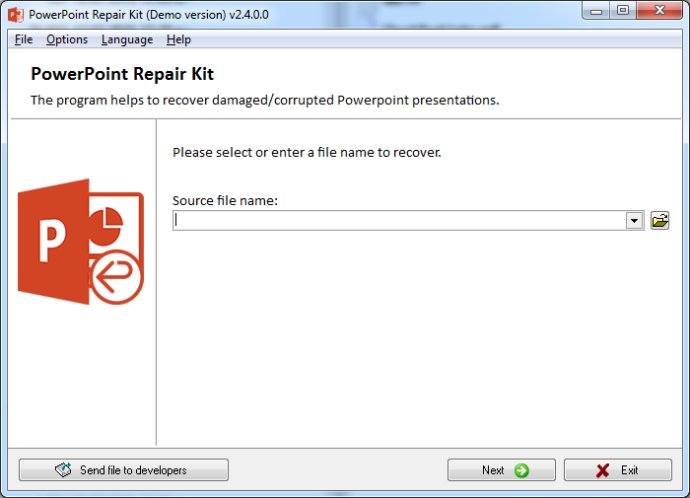 PPT Repair Kit is a comprehensive software for recovering data from *.ppt and *.pptx files of all versions of Microsoft PowerPoint. It is a perfect choice for users who are trying to recover from the consequences of a system crash or virus attack, and are willing to find out how to repair PPT file online without anyone's help.

The program is compatible with the most popular versions of MS PowerPoint and Windows, and can be run on relatively old systems. From the end users' perspective, PPT Repair Kit also saves a considerable amount of time and money, since it saves them the trouble of having to outsource this task to an external service provider, which may not be fast, affordable, or both.

Users trying to find out how to repair PPT files after a system crash will take advantage of the program's advanced automation capabilities, stability and outstanding efficiency in the worst cases of data corruption. The intuitive wizard-based interface is suitable for novices and professionals who want to know how to repair PPT online.

PPT Repair Kit uses artificial intelligence and advanced recovery algorithms to restore data from damaged files in PowerPoint 97-2003 format. It restores custom shapes, text, slides, images, paragraph styles and effects. All media files are saved to a separate folder on the user's hard drive, while recovered slides are exported directly to Microsoft PowerPoint installed on the user's system.

Additionally, recovered charts can be exported to Microsoft Excel for editing. The installation file is compact and the program is an absolute must-have for anyone dealing with the problem of a damaged PPT file right now or on a regular basis.
What's New
Version 2.4.0: New release of PPT Repair Kit.