This software automatically prints messages/attachments, Microsoft Outlook items and specified file types, while allowing manual printing within a date range and from ZIP/RAR archives.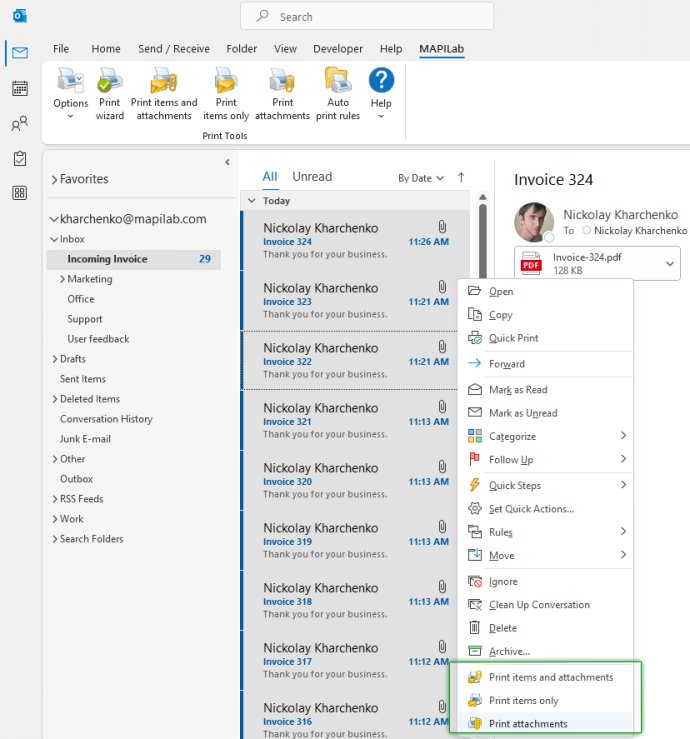 Print Tools for Outlook is an impressive add-in developed by Microsoft Outlook. It has the capability to print incoming and outgoing messages along with their attachments, without having to open them manually. The plug-in packs quite a punch as it can automatically unpack and print packed ZIP and RAR attachments. It also supports manual and automatic working modes.

What's even better, is that the program settings required for the automatic working mode are intuitive and very few in number, making it extremely easy for the user. The output produced by Print Tools is identical to the standard printing method of Microsoft Outlook, with the added bonus of extended functionality.

One of the major drawbacks of Outlook is the inability to print HTML messages with the list of attachments in the message header. To overcome this issue, users are required to manually change the format of the message to RTF or TXT. However, Print Tools comes to the rescue to simplify this tedious process.

Moreover, it is possible to use Microsoft Outlook rules in conjunction with Print Tools to automate the printing process of messages and/or files that are attached to them. Although Outlook has a standard printing rule, it does not allow for specifying file types or printing attachments separately from the message. This is where Print Tools shines as it can print any message, attachment, Note, Task, etc. of any format.

To start printing with Print Tools, simply click on the Print Tools button on the Microsoft Outlook toolbar. The program is fully operational immediately after installation, making it hassle-free for the user. Overall, Print Tools for Outlook is a powerful yet simple software that can make the user's experience with correspondences much easier. Visit the product homepage for more details.
What's New
Version 2.0: Support for automatic printing in Outlook is added; that alternative method enables auto printing without using regular Outlook rules.