This software generates high-quality cards, including business, personal, membership, and commercial cards. Users can design cards in various shapes, such as rectangle, rounded rectangle, ellipse, and CD/DVD.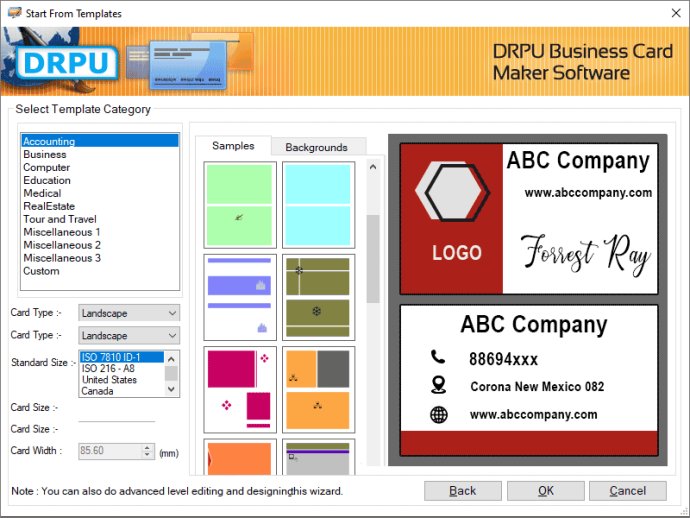 The Business Card Creator Tool is an excellent software that enables users to produce high-quality business cards. Users can easily choose from a range of categories such as business, computer, education, medical, real estate, tour and travel to create their cards. The software has a basic user interface that makes it easy for even novice users to operate it without technical expertise. Furthermore, users can create a new card or modify an existing one.

To create amazing cards using the Business Card Designer software, users can follow these easy steps. Firstly, they can click on any of the three options available: Start with Template, Create Card by using Wizard, or Create Card with Blank Format to create a new business card. Secondly, they need to select the template category, card type, size, dimensions, background and colour. Thirdly, they can add their user details to the card, including their name, title, company, address, state, country, phone number, email, and more. Fourthly, they can double click on the text and set the properties such as font, alignment, colour, gradient, border, etc. Fifthly, users can customize the card with several designing tools such as text, line, signature, library images, picture, barcode, watermark, shapes, etc.

In addition, there is an advanced Batch Processing Series option that allows users to make a large number of business cards with different barcode and text values. To use this feature, users can follow three simple steps. Firstly, they can make a new text or excel file and add the card information in it. Secondly, they can click on Batch Processing Series option, give a name and import the card details from this text or excel file. Lastly, they can double click on the text, set the data source to batch processing series, add the series and click OK button.

Users can export their finished cards in various file formats such as jpg, gif, tiff, bmp, PDF, etc. There is also a Send Mail option that enables users to email the designed card to a specific email address. Finally, users can choose the Print option, set all the attributes before clicking the Print button. To avoid printing errors, they can click on the Print Preview option and correct any mistakes. Overall, the Business Card Creator Tool is an exceptional software that provides users with easy-to-use features to create professional business cards.
What's New
Version 8.3.0.1: Added Support for Latest Windows OS Updates. Added Support for High DPI resolutions Compatibility. Added new Barcode Technologies. Added additional Batch Processing Features to import Data from Excel Sheets.