PST Merge Tool is a software that merges multiple PST files into one, removing duplicates during the process. It works with all versions of MS Outlook.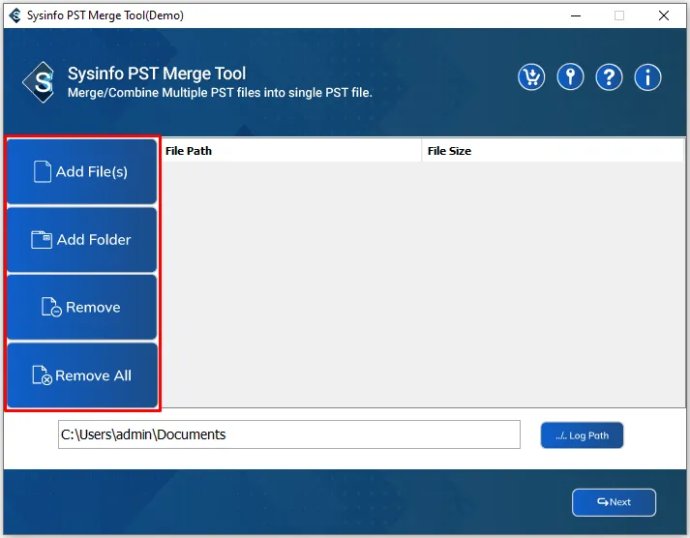 PST Merge Tool is an efficient and fully automated software that enables users to merge multiple PST files into a single one. It offers a user-friendly graphical user interface (GUI) that simplifies the merging process for users with no technical expertise. With PST Merge Tool, users can combine emails, notes, journals, tasks, and other PST file data with ease. Additionally, you can choose to exclude attachments from the emails during the conversion of selected OST files.

A free demo version of the software is available, allowing users to merge up to 50 elements from the PST file. To access all of the software's features, download PST Merge Tool, then choose either the "Add Files" or "Add Folder" option depending on your requirements. After this, add the PST files you wish to merge, click "Open," and hit the "Next" button.

Next, select the items from the PST file you want to merge, and choose between the options to join two PST files or merge two PSTs. Click "Next" when you're ready to continue. If you want to merge files from a specific date range, you can select the "Date Range Filter" option. If you want to combine PST files into a new PST file, click "Join in New PST."

Alternatively, if you want to merge PST files into an existing PST file, select the "Join in Existing PST" option and add the PST files by clicking the "Destination" button. If you require password protection for your resultant PST files, click the "Apply Password" option. You can also effortlessly remove duplicate email items from the merged PST file by checking the "Remove Duplicate" box.

When you're ready to start the merging process, click the "Join" button. You don't need any prior assistance to use the program due to its interactive GUI. Moreover, the software guide is available to ensure users understand the process fully. Overall, PST Merge Tool is an excellent solution for merging multiple PST files quickly and easily.
What's New
Version 22.10: Nil