The Library Barcode Labeling Tool creates custom barcode labels with book information, library details, and more. It offers design options for various label shapes, sizes, fonts, and colors to suit user preferences.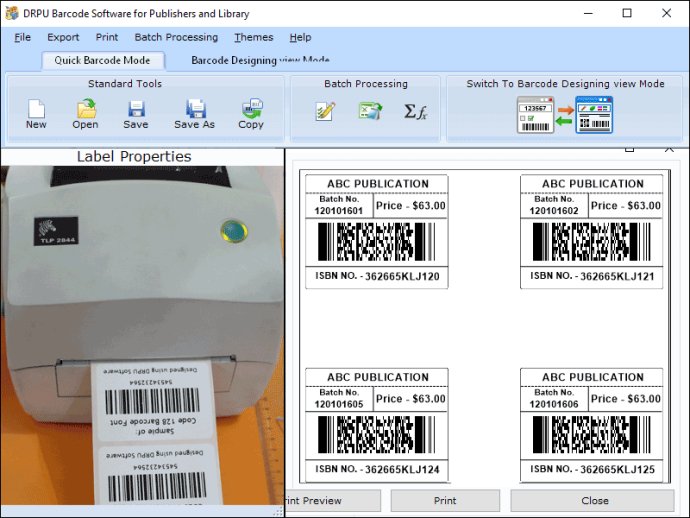 Barcode Label Maker is a highly efficient software that helps design attractive barcodes, tags, and stickers for the libraries and publishing industries. With the capability of supporting all types of barcode printers and scanners, this application enables the creation of multiple barcode labels at a time through various series generation options like random, sequential and constant value.

For the publishing and library industry, the software follows a well-defined set of steps for its full functionality. First, generate a new barcode label in linear or 2D barcode font standards using either the quick barcode mode or barcode designing view mode. The user can then customize the label properties like label shape, size, type, and dimensions, gradient, and borders. The general, font, color and image settings can also be changed as per the requirement.

Using different objects like text, pencil, picture, watermark, etc. in the drawing tools option, the user can design the barcode label according to their preferences. To generate large volumes of labels with different barcodes and text values, the software provides a batch processing series feature. One can create a new excel file or text file and import different barcodes and text values in it to generate various barcode labels.

The software offers two file formats, image format and PDF format, for the user to save the barcode label. Additionally, the software supports linear and 2D barcode font standards, and the generated barcode labels can be further used in various Windows Applications like MS Word, MS Excel, and Paint. The user can save barcode label images in WMF, EMF, PNG, JPEG, and various other file formats.

Finally, the software offers an advanced print option enabling users to preview barcode labels, avoiding mistakes and ensuring their label design is as desired. Barcode Label Maker is an incredibly useful software for businesses that require barcode creation for their products or services. It's easy-to-use, has a great user-interface, and offers various features that fulfill the needs of the publishing and library industry.
What's New
Version 9.2.3.1: Added Support for Latest Windows 11 OS Updates. Added Support for High DPI resolutions Compatibility. Added new Barcode Technologies. Added additional Batch Processing Features to import Data from Excel Sheets.