Quick Screen Capture is a software tool that captures any part of a screen, edits the image, and saves it in BMP, JPG, or GIF formats. It is easy to use for screen capture and image editing.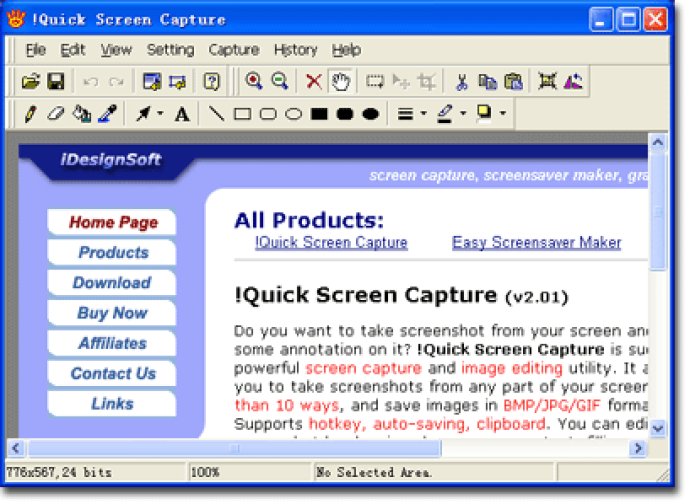 Quick Screen Capture is a versatile screen capture and image editing tool that offers a range of features. It allows you to easily capture any part of your screen, whether it's the entire screen, a window, program menus, scrolling windows, DirectX sources, DOS screens, digital camera images, and any on-screen activity. The captured images can be saved in popular file formats such as bmp, png, pcx, tif, gif or jpg files.

This software offers an intuitive interface that makes it easy for users to create professional screenshots. Once captured, the images can be edited, printed or copied to the clipboard. Quick Screen Capture supports auto-saving and copying the captured image to the clipboard, making it very convenient for users who capture a lot of screens.

With Quick Screen Capture, users can enjoy a range of editing features that help them to enhance their captured images. The software allows for easy editing of pictures and can save the image in BMP/JPG/GIF formats. This software is a must-have utility that can help to improve your message by communicating your thoughts and ideas visually.

Quick Screen Capture is very user-friendly and easy to use, which will help to increase productivity by allowing users to spend more time creating and less time explaining. Whether you are a professional or a casual user, Quick Screen Capture is an essential tool that is perfect for all your screen capture needs.
What's New
Version 2.2.89: N/A