Quick3D Viewer is a high-performing software that allows for speedy viewing of a wide range of 3D file formats. It is an essential tool for anyone working with 3D graphics files, regardless of the type. The software works with both well-known and lesser-known formats.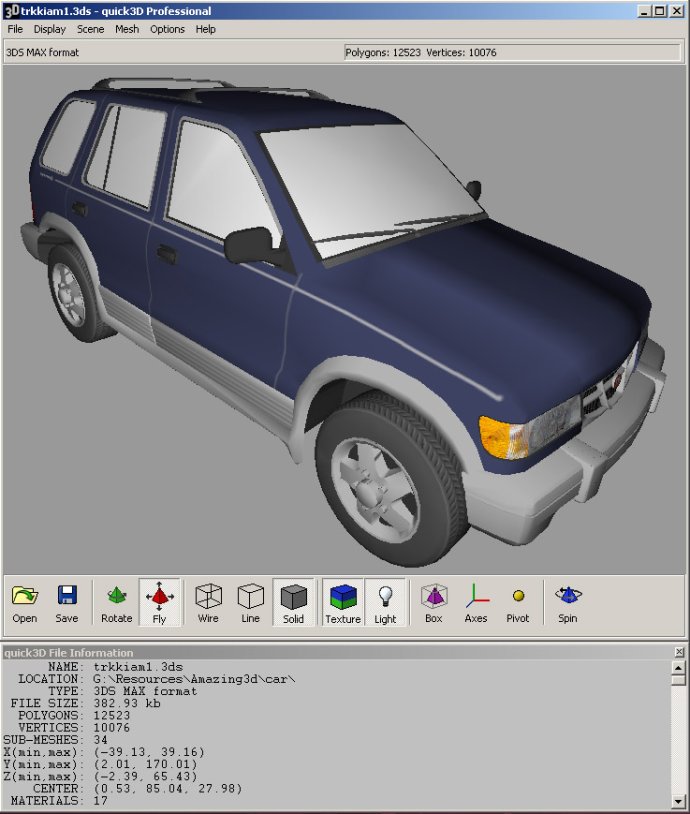 If you're looking for a productivity tool that lets you view 3D file formats with lightning-fast speed, then quick3D Viewer might be just what you need. This utility is perfect for anyone working with 3D graphics and it supports an expansive range of 3D file formats, both major and obscure.

One of the best things about quick3D is its real-time 3D viewer, which displays geometry, materials, texture maps, and animation for some formats. There are tons of display options available, some for serious model examination and others for creating cool 2D images.

In addition to its powerful viewing capabilities, quick3D also comes with a range of features to help you work with 3D files more efficiently. It has a universal 3D file format viewer, as well as tools for converting geometry, materials, and textures. There's even a command line interface for those who need it.

Some of the 3D file formats supported by quick3D include quick3D®, 3DS MAX®, Truespace®, RenderWare®, DXF, and many more. The software also supports a variety of image file formats, including Windows Bitmap, JPEG, and TARGA.

Other useful features of quick3D include animation viewing and conversion, image export, and data manipulation tools like normal generation, tesselation, and material and texture application. The software also boasts a real-time display and scene with solid, wireframe, and contour modes, as well as lighting, texturing, and culling.

Overall, quick3D Viewer is a powerful tool for anyone working with 3D graphics. Its simple and powerful interface, along with its OpenGL® hardware support and software version auto-update, make it a great choice for any 3D professional.
What's New
Version 4.0: N/A