Raise Data Recovery for JFS is a reliable data recovery software for Linux OS that can retrieve lost, deleted or corrupted files from JFS file system. It has powerful mechanisms for efficient reconstruction of severely damaged JFS system.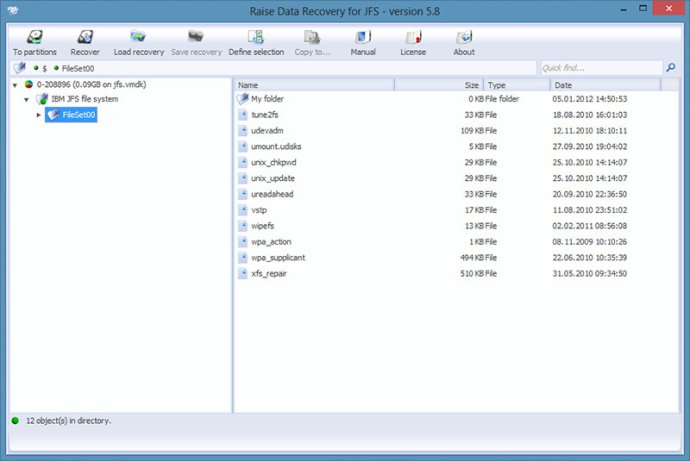 Raise Data Recovery for JFS is a top-tier software application that is designed to recover data from JFS file systems of Linux operating systems. This software is equipped to reconstruct JFS systems, even in the most severe cases. With Raise Data Recovery, users can easily recover lost, accidentally deleted, and corrupted files from their JFS file system. This powerful software is capable of recovering lost data from hard disks, removable storage, disk images and virtual machines, as well as separate partitions formatted with JFS file system.

Not only that, but users can also apply the program to more complex RAID-systems, thanks to the built-in RAID Access Plugin - RAID Builder. As a result, Raise Data Recovery for JFS is a one-stop solution for all your data recovery needs. If your hard disk has been damaged due to formatting, hardware malfunctions, software failures, virus attacks, or power outages, this software can help you recover your lost data with ease.

One of the key features of this software is that it is capable of reconstructing JFS file systems even after severe damages have occurred. Moreover, the software identifies other file system types, such as Windows (FAT and NTFS), Apple Mac OS (HFS+), Linux (Ext2, Ext3, Ext4 , Reiser, XFS), and FreeBSD (UFS / UFS2). This allows users to easily detect their file system type and select the proper data recovery software.

While JFS file systems feature good chances for recovery of file contents, they do have one disadvantage. File names can be recovered incorrectly. This is where Raise Data Recovery for JFS comes in, employing only the latest developments in the field of data recovery to achieve maximally possible data recovery result from JFS file systems.

Additionally, this software operates in read-only mode, which guarantees complete safety of your data initially contained in the storage. This mode ensures that you won't accidentally overwrite any of your data, which can lead to permanent loss. Combining ease of use, safety, and user-friendliness, Raise Data Recovery for JFS is the perfect solution for do-it-yourself recovery for even non-experienced JFS users.
What's New
Version 5: Advanced specification of filter and parameters for file copying via 'Copy with parameters...' tool that lets precising bulk data copying operations.
Support of Apple Software RAID that allows building Apple 'Software RAID' in RAID editions of UFS Explorer automatically.