RationalPlan Multi Project is powerful software that facilitates project management across multiple interconnected projects by delivering effective features for WBS construction, project scheduling and planning, progress tracking, and much more.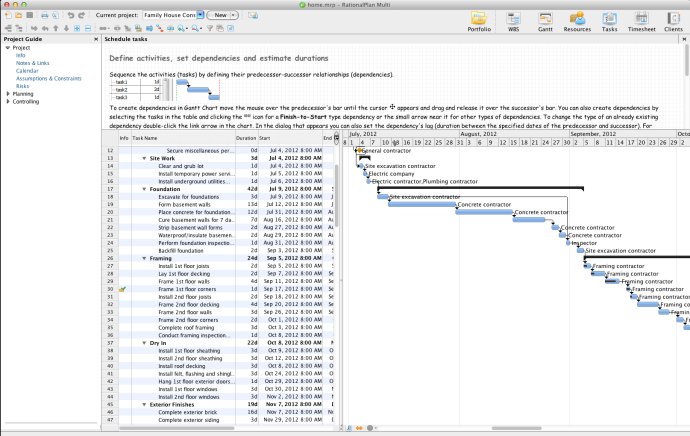 RationalPlan Multi Project by Stand By Soft is a must-have software for project managers that aims to streamline their project management processes. The software caters to project managers belonging to various industries, such as engineering, construction, software development, consulting, business, or students carrying out projects.

RationalPlan Multi Project is designed to aid users in completing their projects as executed, delivering work within stipulated schedules, cost-efficiently and in line with the projected budget. The ultimate goal is to ensure that projects are finalized timely and efficiently.

The software facilitates project management of multiple projects, making it a go-to choice for users working on interrelated projects or sharing resources between several projects. However, if you're working on a project that involves a single project, you can opt for the Single Project version.

RationalPlan Multi Project is packed with advanced features that empower users to manage complex project management tasks. It allows users to manage company projects using a multiproject tree structure that effortlessly breaks down projects, schedules, allocates resources, and manages budgets.

The software sports mechanisms for cost estimation and screening cash-flow time distribution for tasks and resources. It enables users to access a step-by-step project guide that walks them through the project management process, making it easy to conceptualize and execute a project plan.

RationalPlan Multi Project features multiple undo and redo levels, enabling users to make changes and safely revert to previous versions effortlessly. The software also tracks project evolution regarding task completion, time, and costs, identifying potential roadblocks to an efficient project management process. The feature brings critical tasks to users' attention, allowing them to configure slack as well as overallocated resources.

RationalPlan Multi Project covers the entire spectrum of project management, from WBS construction, project planning, and scheduling to critical path management, progress tracking, and cost estimation. An ideal asset for any project manager or team looking to optimize their project management processes.
What's New
Version 6.1: Bug fix regarding percent complete computation for backward scheduling;
Bug fix for displaying rates on clients;
Bug fix: guard against empty string value for color on tasks;
Bug fix: when splitting a task copy the fixedUnits flag to its children.
Version 6.0.10: -Bug fixes.
Version 6: -possibility to work with baselines and Earn Value Management technique when managing projects;
-added project status column in Timesheet view and corresponding filter in My assignments view;
-On-Premise products (Single and Multi) are now available within the Microsoft Store and more ...