Easily create recipes and shopping lists with a cooking software. Simplify meal planning and grocery shopping with user-friendly interfaces and tools.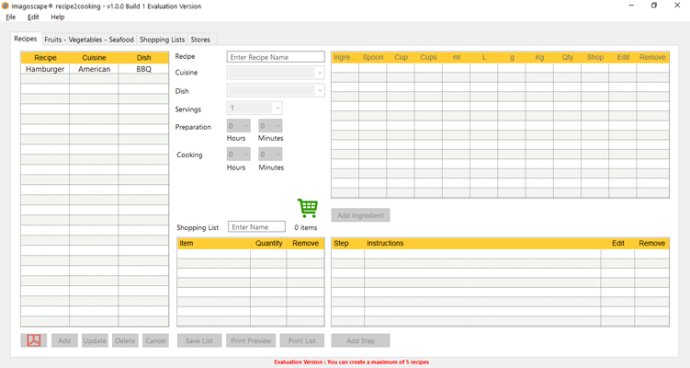 If you're a cooking enthusiast, then you'll understand the importance of having an organized system for creating recipes and shopping lists. Fortunately, there's a software up for the challenge - allowing you to easily create recipes alongside shopping lists.

This application has various features that will simplify your meal planning, including a database table for recipes, ingredients, instructions and shopping lists. Furthermore, you'll be able to export your recipes as a PDF file, ensuring it's always in your possession.

Creating your shopping lists is also made easy, simply add items to your list from various product categories. Additionally, you have the ability to print your shopping lists or export them as an HTML file. This will allow you to view your list on mobile devices - improving portability and convenience.

Finally, the application provides the ability to manage and view stores for shopping- helping save time for busy cooks. Features such as Google Maps integration makes it easier to locate stores with your preferred products.

In summary, this software offers a holistic approach to managing your cooking routine-creating, planning, and shopping-all seamlessly, under one roof!
What's New
Version 1.3.0.4: New Release. No changes.