Recover deleted files from various locations like hard drive, memory stick, Recycle Bin, network drive, compact flash card, portable devices and DOS window using undelete software.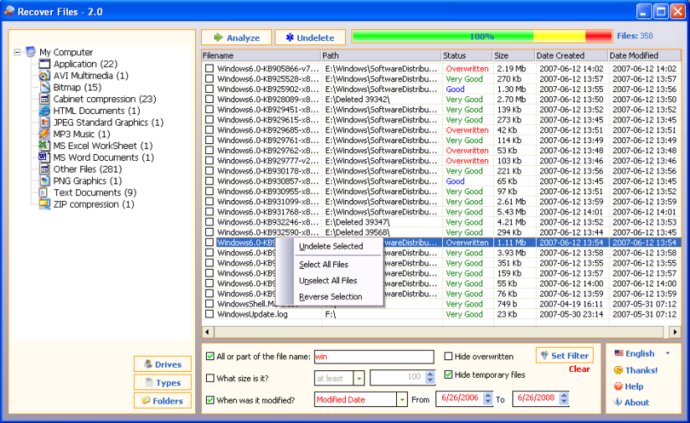 Recover Files is an award-winning software that specializes in undeleting or recovering deleted files from various storage devices including Hard Drives, Memory Sticks, and Flash Memory. Whether you have accidentally deleted files, removed them from the Recycle Bin or network drive, or even wiped them from a DOS window, you can depend on Recover Files to recover them for you. This professional file recovery software also supports image recovery from CompactFlash, SmartMedia, Multimedia, and Secure Digital cards.

One of the best things about Recover Files is its interface. It is simple, clean, and easy to navigate. This small and fast program packs a punch with its practical and powerful features. It works flawlessly with Windows 95, 98, Me, NT, 2000, XP, 2003, and Vista operating systems, making it a versatile recovery tool for different computing needs.

Another impressive feature of Recover Files is its capability to recover deleted files from all NTFS and FAT partitions. This software supports all Windows file systems for hard and floppy drives including FAT12/16/32, NTFS/NTFS5, and more. So whether you lost pictures, videos, or documents, you can trust this tool to quickly and effectively restore all those files that you may have deleted by mistake.

In summary, Recover Files is a top-rated recovery software that offers outstanding performance when it comes to file recovery. Its intuitive interface, compatibility with various operating systems, and support for different file systems make it an indispensable tool for users who value their important files. With its powerful recovery features, you won't have to worry about losing essential data again.
What's New
Version 3.35: new languages added
Version 3.34: new languages added
Version 3.33: new languages added
Version 3.29: new languages added
Version 3.27: new languages added
Version 3.26: new languages added
Version 3.25: new languages added
Version 3.24: new languages added
Version 3.22: new languages added
Version 3.21: new languages added