This NTFS file restoration software can recover multimedia files including mov, txt, and wav, as well as restore lost or deleted office files and folders from formatted HDDs of any size.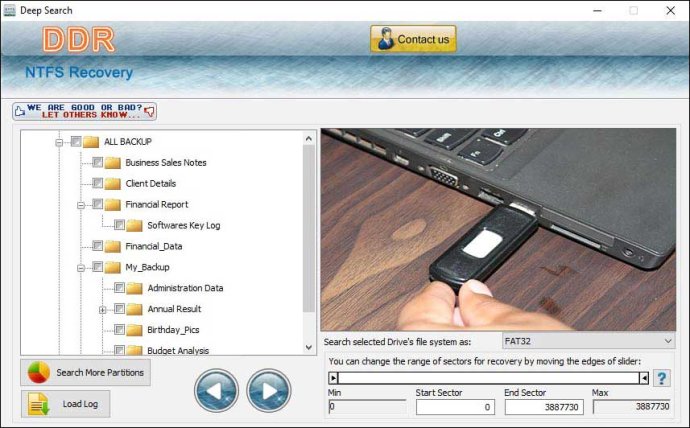 If you have accidentally deleted some data or lost some files due to a hard drive crash, the NTFS data recovery software might be the solution you need. This reliable software supports different file formats, including mov, doc, and txt files, and ensures data quality during the recovery process.

The NTFS file restoration program can rescue entire missing files and folders in their original formats from corrupted hard disk drives of any capacity. Additionally, it can retrieve all damaged data from multiple encrypted and compressed files without affecting data quality.

This software is user-friendly and supports a highly interactive wizard-style GUI feature with an inbuilt help manual to assist both IT and non-IT users. Moreover, it is available with an advanced feature to retrieve missing data from different types of formatted hard disks, including ATA, SATA, SCSI, and IDE.

The NTFS file salvage program is fully compatible with all versions of Windows operating systems and can recover deleted data from damaged MBR, MFT, and DBR files without affecting system performance. It also supports efficient data backup in non-destructive mode from all major brands of hard disks, including Samsung, Toshiba, and Sony.

Some of the features of this program include the ability to retrieve the entire deleted data from corrupted audio, video, and text files, safely recovering missing secret files and folders from formatted hard disk drives, and supporting a user-friendly GUI interface.

Additionally, the NTFS data recovery software can recover encrypted files with long file names that were lost due to virus infection or any type of human error. The application can also safely rescue deleted root directories, subdirectories, office files, and folders from formatted hard disk drives of any capacity.
What's New
Version 4.0.1.5: Added support for latest versions of Windows Vista