This undelete software is made for recovering deleted files, photos, videos, and other file types from both local and external drives. It boasts a high success rate and fast recovery speed.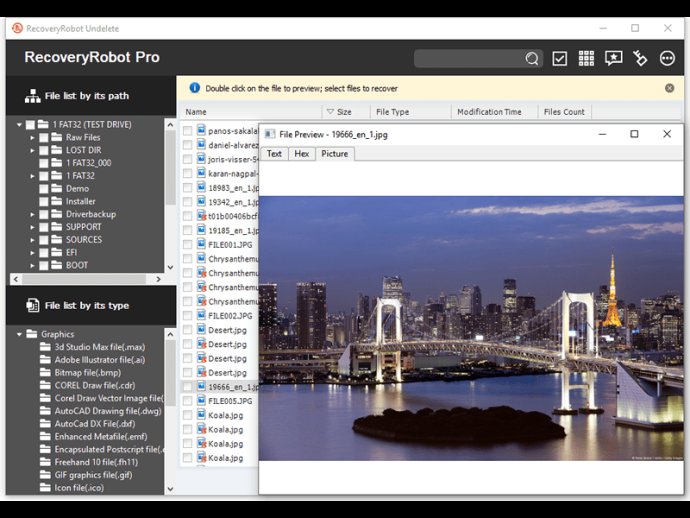 RecoveryRobot Undelete is a powerful and efficient undelete recovery software program that has been specifically designed to help users recover deleted files, photos, videos, and other file types from both local and external digital devices. With this software, you can enjoy a high undelete recovery success rate, comprehensive recovery functions, and easy-to-use features that make file recovery a breeze.

RecoveryRobot Undelete is capable of recovering files that have been emptied from the Recycle Bin, deleted using the SHIFT+DELETE key, deleted due to virus infection or malware, deleted after the Move or Cut command was used, and even those that were deleted by other actions. It can also recover files from damaged or formatted hard drives or removable devices like USB drives, SD cards, cameras, and other storage devices.

There are many reasons why you should choose RecoveryRobot Undelete. For one, it has a comparatively high file recovery success rate, making it a reliable and effective tool for recovering your lost or deleted files. Additionally, it is easy to use and does not require professional skills, so you can perform an in-house undelete recovery all by yourself.

Another great feature of RecoveryRobot Undelete is its fast scanning speed, which allows you to quickly find and recover your deleted files without having to wait for hours. Plus, it's a DIY process, which means you don't have to rely on third-party software or data recovery services to handle your private data.

Finally, RecoveryRobot Undelete is small in size and consumes very little of your computer's resources, so you can use it without worrying about it slowing down your system.

Using RecoveryRobot Undelete is easy. Simply download and install it on your PC, scan the drive or device where the deleted file is located, and find and recover the deleted file in the scan results. With its powerful features and user-friendly interface, RecoveryRobot Undelete is a top choice for anyone looking to recover deleted files quickly and easily.
What's New
Version 1.3.1: Add language support for Chinese (Simplified & Traditional), Dutch, French, German, Italian, Polish, Portuguese,Spanish, and Turkish;
Improved deleted file recovery process;
Improved deleted file recovery speed;
Fixed minor bugs