Easily download and store videos from Redtube to your devices, including PC, iPod, iPhone, PSP, and mobile phone with a simple one-click process. No additional codecs or players required for effortless access.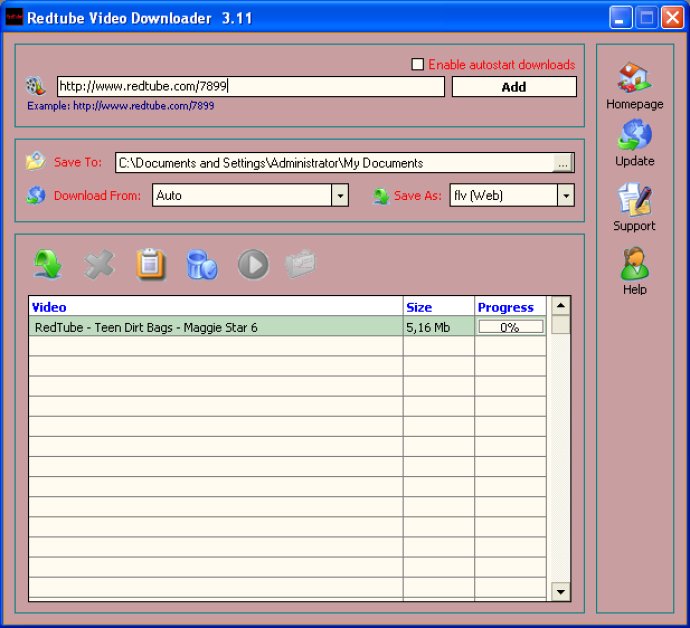 Are you someone who enjoys watching videos online but hates the hassle of buffering and slow internet speeds? Then let me recommend a fantastic tool that can solve all your problems - Video Downloader!

With this software, you can easily download and save all your favorite Redtube videos to a variety of devices such as your PC, Ipod, Iphone, PSP, and mobile phone with just one click. No need to waste any more time waiting for videos to load online.

Not only that, but you don't need any third-party players to play flash videos as you can easily view them on your default media player classic. The downloaded videos can also be saved in various formats like .avi, .mpeg, .flv, and .wmv, making it easy to watch them on any device you like.

Moreover, Video Downloader also allows you to download web videos from other websites such as YouTube, Vimeo, and many more, making it a great all-in-one tool for video lovers. The software is incredibly easy to use, and you can simply paste the URL of the video you want to download into the program, press Add, and the file will be downloaded into the selected folder.

Best of all, you don't need to worry about extra codecs or players or even script installations for web browsers. Video Downloader has everything you need to enjoy your favorite online videos, whenever you want them. So, what are you waiting for? Try Video Downloader today and elevate your video viewing experience to the next level!
What's New
Version 3.43: new output formats added, minor bugs fixed
Version 3.42: new output formats added, minor bugs fixed
Version 3.41: new output formats added, minor bugs fixed
Version 3.39: new output formats added, minor bugs fixed
Version 3.38: new output formats added, minor bugs fixed
Version 3.36: new output formats added, minor bugs fixed
Version 3.35: new output formats added, minor bugs fixed
Version 3.34: new output formats added, minor bugs fixed
Version 3.33: new output formats added, minor bugs fixed
Version 3.32: new output formats added, minor bugs fixed