This Outlook add-in provides additional alerts to prevent common email mistakes and potential issues when sending emails. The software helps users avoid repetitive errors and potential trouble when composing and sending email messages through Outlook.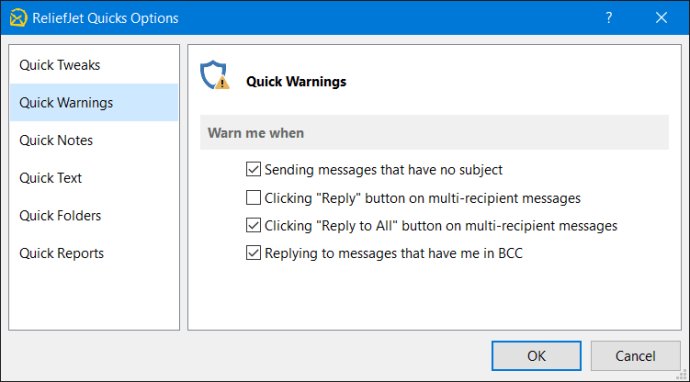 If you're someone who sends a lot of email, you know it can be easy to make mistakes. Whether you're replying to the wrong person or forgetting to include a subject, these mistakes can be frustrating for both you and your recipients. That's where ReliefJet Quick Warnings comes in.

This Outlook add-in is designed to give you extra warnings when sending email so you can avoid common mistakes and potential problems. For example, the add-in will warn you if you try to reply to just one sender of a message that was sent to multiple people, or if you try to reply to all recipients of an email. It will also let you know if you're trying to reply to a message you weren't originally included in, or if you're sending a message without a subject line.

But ReliefJet Quick Warnings doesn't just warn you about potential issues-it also gives you options to customize which warnings you receive. You can enable or disable each of the Quick Warnings individually, depending on what you think will be most helpful for your specific email habits.

Overall, ReliefJet Quick Warnings is a simple but effective tool that can save you time and help you avoid miscommunication with your email recipients. It's a must-have for anyone who sends a lot of email and wants to stay on top of their game.
What's New
Version 1.3.2: Compatibility improvements with the latest Windows 10 and Microsoft Office 365 versions.