Remind-Me software keeps track of and alerts you to upcoming events, including holidays, birthdays, anniversaries, and scheduled appointments. Its user-friendly calendar interface provides a visually appealing way to stay organized and never miss an important date.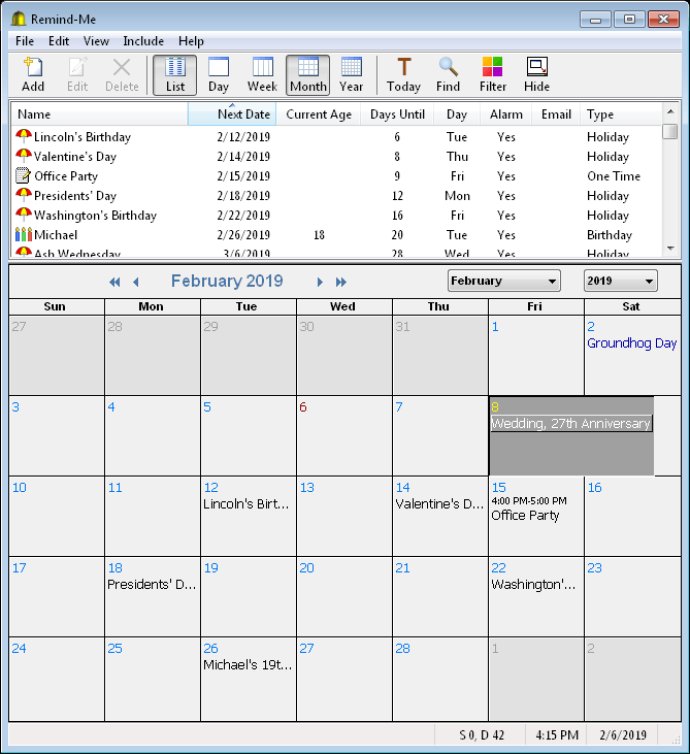 Remind-Me is an innovative personal calendar and event reminder which operates on Windows. It can be effortlessly integrated into your daily routine and manages to effectively track and remind you of upcoming events before they occur. From holidays and birthdays to anniversaries and scheduled events, the program displays them all on an attractive, traditional calendar.

One of the most useful features of Remind-Me is that it allows you to decide when to be alerted about upcoming events. You can set the alerts to occur when your computer starts up, or at any specified time. This way, you can stay organized and keep on top of your schedule with ease.

Remind-Me also has a built-in support system for sending automatic e-mails when an event occurs. The emails can be customized and composed on your own, or they can be sent automatically. The program even allows you to attach a personal audio greeting that you have recorded by using your computer's sound card and microphone, giving you the unique ability to add that personal touch to your event reminders.

Overall, Remind-Me is a highly beneficial tool for anyone looking to stay organized and on top of their busy schedules. By using Remind-Me, you can ensure that you never forget an important date again!
What's New
Version 8.5: See: https://www.beiley.com/remind-me/modlist.html