Barcode Labelling Tool creates high-quality barcode labels for inventory management. Export labels as images/PDFs at any desired location. Use various drawing tools to customize the barcodes.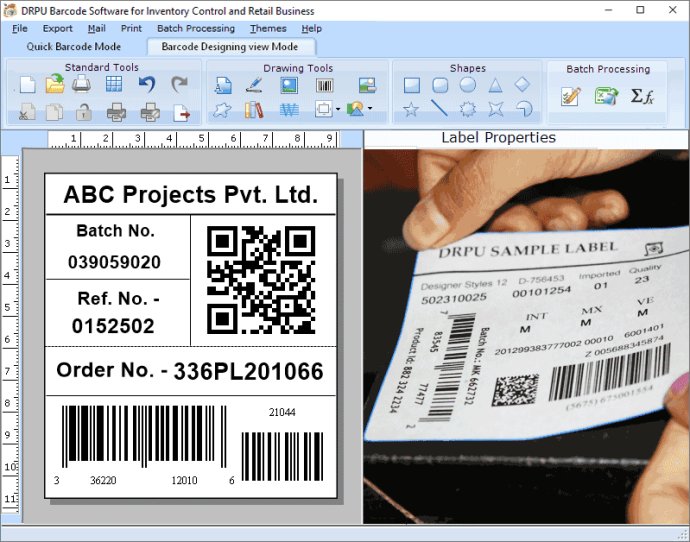 If you're looking for a reliable and efficient solution to track inventory and retail products, then look no further than the Windows Barcode Label Creator. This versatile software allows users to create printable barcode labels that can be stored in various Windows Applications like MS Word, MS Excel and MS Paint, making it easy to manage your inventory.

To create personalized barcode labels for inventory control and retail business, users can follow a simple step-by-step process that includes selecting the barcode font standard and entering details like barcode value, barcode header and footer, alignment, bar height, and more. The software also provides customization options like fonts, colors, gradients, borders, and other properties for users to design their barcode labels using various drawing tools like text, shapes, signature, picture, library images and graphics.

For bulk barcode label creation, the software also comes equipped with a batch processing series facility that enables the user to create several copies of labels with different barcode and text values. Users can simply create a new text or excel file and add the different barcode and text values in it. Then, import this file in the data sheet to generate the barcode labels in bulk.

The Windows Barcode Label Creator supports various file formats like jpeg, tiff, bitmap, gif, etc. Users can save the barcode label images in any one format of their preference. With its flexible print option, users can adjust all the print settings and click on the print preview option to avoid errors before printing out the designed barcode label.

The application generates barcode labels in both quick barcode mode and barcode designing view mode to ensure user convenience. The software offers general, font, color and image settings options to customize the barcode label and users can generate large numbers of barcode labels with the help of random, sequential, and constant value barcode series generating technique.

In summary, Windows Barcode Label Creator for Retail Business is a fantastic software solution that provides users with an exceptional experience while managing and tracking inventory products. Try it out today and streamline your product tracking process!
What's New
Version 9.2.3.2: Added Support for Latest Windows 11 OS Updates. Added Support for High DPI resolutions Compatibility. Added new Barcode Technologies. Added additional Batch Processing Features to import Data from Excel Sheets.