This software helps Windows IE users recover lost or forgotten passwords, including FTP, email, and news group accounts. It unmasks asterisk characters or identity passwords, making it easy to retrieve misplaced or hidden passwords.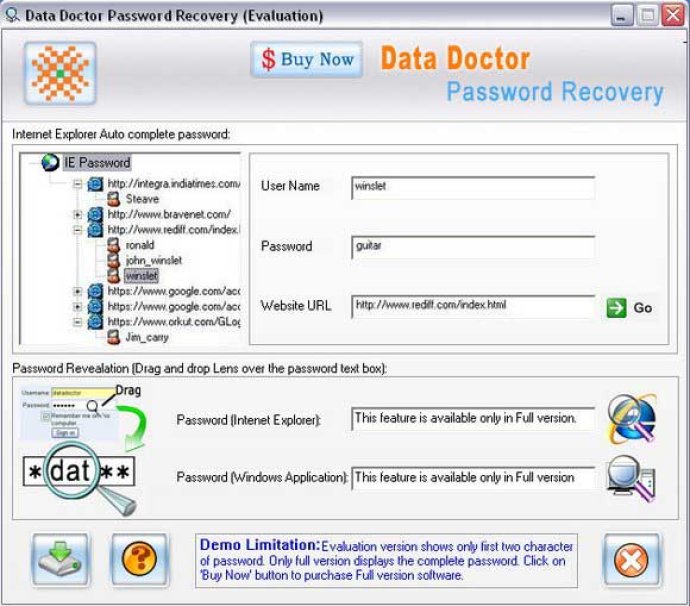 If you are someone who often forgets their password, the Windows Internet Explorer Hidden Password Recovery Tool might just be what you need. With this software, users can unmask misplaced or forgotten passwords of email accounts configured on Yahoo, Gmail, Hotmail, AOL, Orkut, Rediffmail, MSN, and other search engine accounts.

In addition, this identity password revealer can also be used to unmask lost confidential or secret login details, including usernames or passwords of administrator accounts configured on the web. Once the lost password has been retrieved, the software allows users to save it on a desirable location of the hard disk drive in a text file format.

Software compatibility will not be an issue with this tool, as it is perfectly compatible with all Windows-based operating systems, including Win 98 2000 2003 XP XP Professional and Vista Editions.

IE password revival application can retrieve back lost passwords of a range of accounts, from news group accounts and online shopping accounts to web forms, FTP accounts, and Windows application accounts. This asterisks (****) characters password restoration utility only requires 128 MB RAM and 10 MB free hard disk space to get installed on the computer system.

For inexperienced users, there is no need to worry, as this easy-to-operate software is available with various screen shots and user help books to assist with the recovery procedures of lost or misplaced passwords.

Other notable features of this program include its simple graphical user interface, which makes it easy to use and understand even for the inexperienced, and its compatibility with the latest versions of Internet Explorer, including IE 5.0, 6.0, 7.0, and 8.0. The IE hidden password revealer application also comes with the install and uninstall feature, making it convenient for users to install or remove the program as needed.

This cost-effective and economical lost password revealer tool is also a non-destructive and read-only application, specially designed for computer professionals. Lastly, the software's Unicode architecture character set supports multiple language passwords recovery.
What's New
Version 3.0.1.5: Added support for Internet Explorer 8.0.