Rizen is an app designed for teaching users how to navigate life with an open mind and optimize daily tasks for improvements. This approach increases the possibility of achieving desired goals.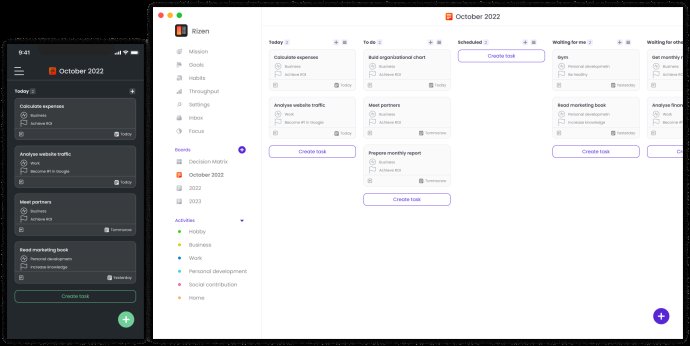 If you are looking for a software that helps you prioritize tasks and boost your productivity, Rizen App is the answer. With this app, you can use the Eisenhower decision matrix to put your tasks in order of importance. You will be able to focus on what is really essential and dedicate your energy and time to it.

Another feature of Rizen App that will help you stay on track is the Pomodoro technique. This technique will teach you how to concentrate for 25 minutes and take a break to avoid burnout. It's an excellent way to optimize your work and give yourself the chance to rest and recharge.

Setting goals is a crucial step for achieving success. Rizen App helps you define your goals and track your progress. You can use the Rizen Habit Tracker to build good habits that will change your life slowly but steadily. The app remembers all your routines, freeing your mind to focus on things that really matter.

The Kaizen approach is the basis for Rizen App. With its kanban boards, you can organize your tasks and improve them continuously. Scheduling your weeks and months wisely is another aspect that this app can help you with. The Throughput Chart feature boosts your daily productivity, and the inbox feature lets you share tasks with others.

The idea behind Rizen App is that small and consistent things can create change. The app encourages you to focus on the Kaizen philosophy, improving your daily routines to achieve your goals. By mastering these principles, you will have a better chance of living a more fulfilling and balanced life.

In conclusion, Rizen App is an excellent tool for anyone who wants to optimize their work, achieve their goals, and live a better life. It's software based on proven productivity principles that can help you make a significant difference in your daily routine. If you want to break away from traditional techniques and explore new ways of improving your life, Rizen App is the right choice.
What's New
Version 6.7.2: Improved Toasts UI and Sharing UI
Version 6.4.7.: Improved Toasts UI and Sharing UI