This software provides a Romanian VPN service with strong encryption for traffic protection. It also includes malware and phishing protection and enhances internet accessibility and safety.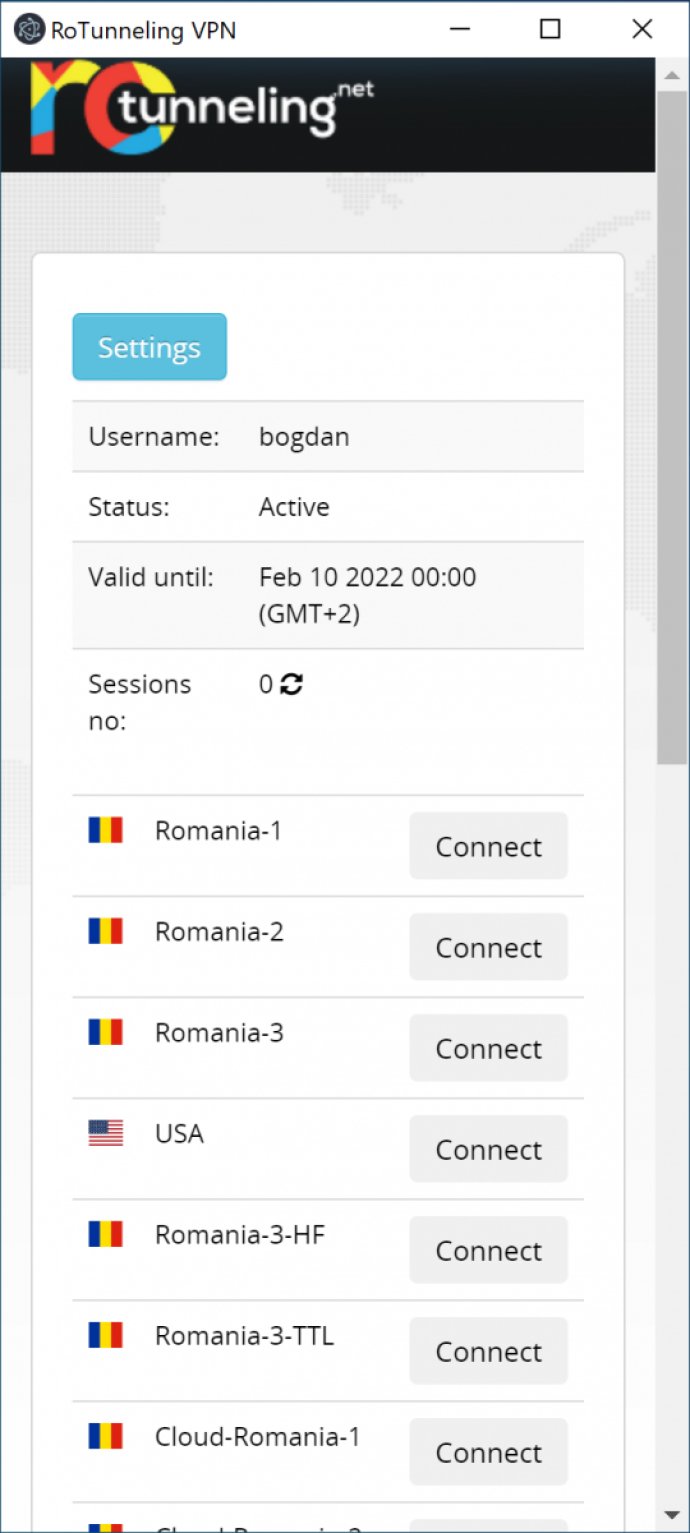 RoTunneling VPN is a service designed to enable users to access the internet without censorship and ensure their safety whilst surfing the internet. Its purpose is to assist users who may be experiencing limitations such as being unable to access certain websites, games or instant messaging applications, or whose internet access is via a proxy and whose preferred application does not permit connection via proxy.

In addition to removing such limitations, RoTunneling VPN protects personal data from interception, particularly when connected to the internet via public networks such as hotels, college dorms, restaurants etc. It provides a crucial role in safeguarding personal accounts containing sensitive information such as bank account details and email addresses. Even mobile phones can easily be intercepted, so it goes without saying, intercepting computer traffic via public Wi-Fi Spots is very easy. RoTunneling VPN has a technology that encrypts traffic with AES 128, rendering it unintelligible and therefore impossible to decipher if intercepted.

To further protect users, RoTunneling VPN offers Malware and Phishing protection. This blocks the connection with sites that distribute malware, including malvertising, phishing or C&C. Traffic is encapsulated in native HTTPS, DNS, and ICMP traffic to ensure that even the user's internet service provider is unaware that VPN service is being used.

To optimize performance, RoTunneling VPN utilizes 32 concurrent, bidirectional connections between the client and server. HTTP Proxy support is also available to users that use an HTTP Proxy to connect to the internet. This feature enables full use of the internet with all apps, even those that do not support HTTP Proxy.

Overall, RoTunneling VPN is an essential tool that ensures users' freedom, privacy and security is maintained while they work or play on the internet, without the fear of prying eyes or restrictions.
What's New
Version 5.0.6: Bug fix