RusRoute is a routing firewall software that enables the creation of an Internet gateway for local area networks. It provides traffic accounting and restriction, as well as protection against network attacks with NAT, VPN, and proxy functionalities for both IPv4 and IPv6.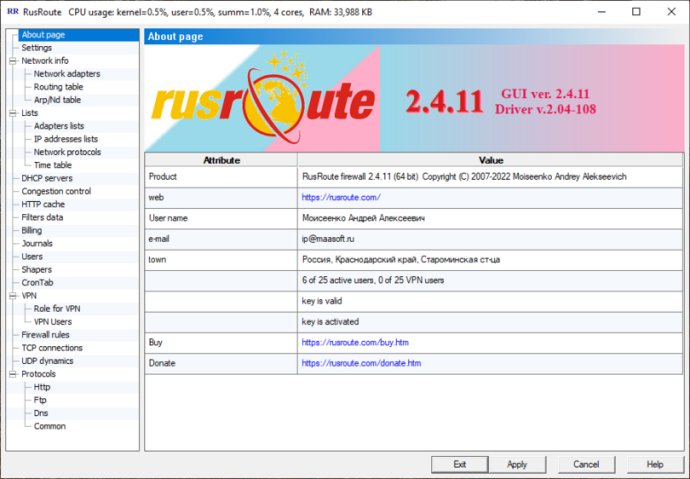 RusRoute firewall is an exceptional software solution that offers both IPv4 and IPv6 routing and firewall capabilities. It serves as the perfect Internet gateway for Windows, catering to the needs of LAN in any organizational setup. This robust tool provides users with comprehensive traffic accounting and restriction, including HTTP 1.1 blocks via domain name and URL masks.

Furthermore, RusRoute offers an array of advanced features, such as NAT, redirect, dynamic shaper with conditional expressions, VPN server, proxy, LAN to VPN Bridge, DHCP servers, HTTP caches, and HTTP to HTTP proxy converter. With the ability to monitor TCP, UDP, HTTP, FTP, DNS speed and connections, this tool is a comprehensive package for securing network architecture.

RusRoute firewall also boasts a reliable protection mechanism against network attacks with its advanced routing options. The HTTP captive portal feature, timed actions, and Splitters for rules set it apart from other solutions in its category. Overall, RusRoute firewall is an excellent choice for organizations seeking to secure their network and cater to the needs of their LAN.
What's New
Version 2.4.9: + Small bug fixes and improvements for IPv6 functionality: user login from 127.0.0.1 and ::1 is authorized all IPv4 and IPv6 addresses of NIC, RRClient[64].exe can connect to IPv6 for authorization, updates checking and black lists loading are able to connect to IPv6 server's addresses.
Version 2.4.8: - Infinite loop bug fixed on IPv6 Neighbor Discovery options handling.
- If UDP checksum is 0 (not calculated), then RusRoute redirects and NAT are not updating this field now.
+ Background loading IP list files option in the Settings page.
+ Hash functions optimization of self-signed driver.
Version 2.4.2: + Support of IPv6 with limitations.
- Most likely, IPv6 does not work on WAN adapter.
- IPv4/IPv6 TCP WSAECONNREFUSED handling fixed.
+ Speedup of functions "Top 100 connections", "Top 500 HTTP requests".
+ The latest unsigned driver is included.
+ More changes related to IPv4 and IPv6.
Version 2.3.7: - EXCEPTION_ACCESS_VIOLATION error of some log messages formatting is fixed. Is was existed in all latest versions.
- Compilation by the new Microsoft Visual Studio 2022.
Version 2.3.5: + Assembler code for +, -, * functions for long integers, speeding up asymmetric conversions for the x86_64 architecture by about 2 times.
+ Small code optimization (custom allocators for some structures, etc.).
+ Minor improvements.
+/- Additional unsigned version of the updated driver.
Version 2.3.4: - Error "DoTcpConnect(): catch(int: 5)" is fixed. It was appeared when TCP reuse ports recently closed connections (when applications are opening too many small lived connections).
+ Small improvements.
Version 2.3.2: + User manual (help) is opened from https://rusroute.com site.
- Temporarily IPv6 defragmentator/fragmentator is not called now, IPv6 packets are not logged.
- Small bugs fixed.
+ Small improvements.
Version 2.2.1: + Optimization by speed of program by program code optimization and making the best buffers of connections.
+ Compillation by Visual Studio 2019, C++ compiller with the newest standard (draft) of C++. Some bugs are fixed as a result of it.
+ Getting and displaying IPv6 network parameters of PC.
Version 2.1.9: + Licence policy update.
Version 2.1.8: - FastCGI related errors are fixed.