This software is designed to help users win the Pick 3 and Pick 4 lotteries. It is touted as the best software for these lotteries.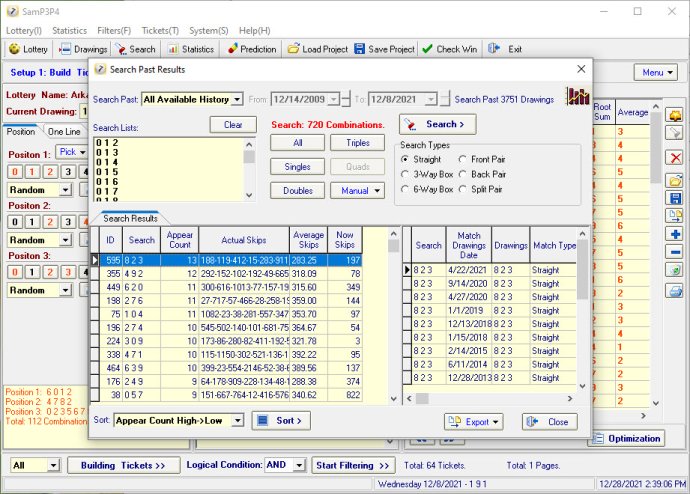 SamP3P4 is a versatile lottery software that can increase your chances of winning the Pick 3 or Pick 4 lottery. It provides a set of cutting-edge features and strategies to improve your gameplay, including a top-notch lottery drawing analysis tool, a search past results tool, a prediction tool, and a filtering tool.

With SamP3P4, you don't have to trust Lady Luck anymore. Instead, you can start using proven techniques to boost your winning chances. The software's analysis and prediction tools can assist you with selecting the most promising numbers, while the filtering tool can eliminate unlikely combinations.

The program automatically generates all possible ticket combinations and allows you to filter out the ones that are less likely to win. This process is incredibly simple and requires only a few mouse clicks to set up and operate. So, instead of depending on fate, you can use SamP3P4 to improve your chances of winning the Pick 3 or Pick 4 lottery.

Lottery software is an excellent tool for enhancing your chances of winning the lottery. While no guarantees can be made, it can help you choose numbers, examine historical data, filter out certain combinations, and conduct complex calculations that can give you a competitive advantage over other players.

Moreover, SamP3P4 2023 has integrated several new features that make it even more efficient. These features include Pattern Optimization, which supports Odd-Even Pattern and Low-High Pattern Optimization, Offset Optimization, which supports Offset – Optimization and Offset + Optimization, a new Generator (Rundown and Tic-Tac-Toe), Advanced filtering that adds the function of automatically generating filter conditions, Offset +- Analyze, and Drawings Trend that supports Hits, Now Skips, Average Skips, Max Skips, and Max Successive.

Overall, SamP3P4 is an outstanding lottery software that can transform your gameplay and give you a better chance of winning the lottery.
What's New
Version 13.1.0: N/A