This software offers an effortless solution to capture automatic screenshots with customized frequency for enhanced convenience. It operates in a hidden mode, eliminating any display on the taskbar or tray.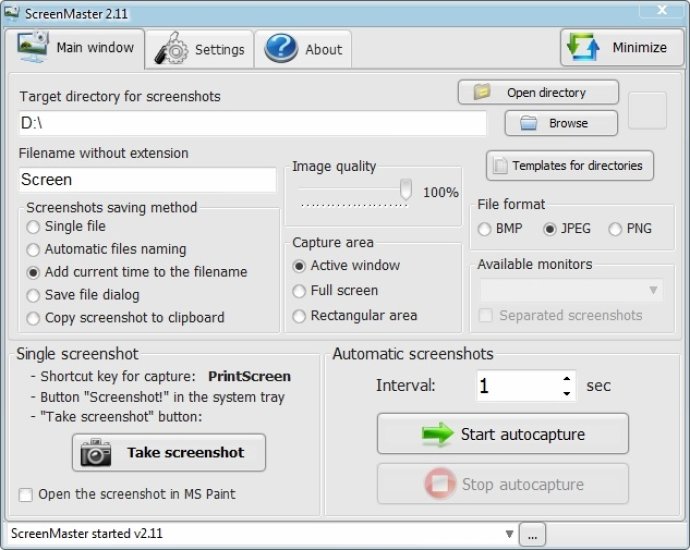 ScreenMaster is a great program that allows for easy automatic screenshot capturing. With this software, you can take screenshots with just a set frequency, making it perfect for those who need to document their workflow or for capturing moments during online presentations or classes.

One of the best features of ScreenMaster is the option for fast screen capturing. You can save the screenshots to a specified folder and select the format of your choice - JPG, BMP, or PNG. This program also offers a hidden mode, where it can capture screenshots without displaying in the taskbar or system tray.

Setting up ScreenMaster is extremely simple, thanks to its user-friendly interface. You can easily customize your settings using its key features, such as auto screenshot capture, support for multiple monitors, and templates for folder names.

ScreenMaster also allows for spy screenshot capture mode, automatic start of screenshot capture after launching a third-party application, and hot keys for making the screenshots. You can also set up personal or global settings, making it easy to switch between users.

Other features of ScreenMaster include saving in BMP, JPEG, PNG formats with specified image quality, copying screenshots and files to the clipboard, automatic cleaning of old screenshots, and automatic limiting of maximum folder size. Overall, ScreenMaster is a fantastic tool for taking screenshots efficiently and effectively. The program is supported on MS Windows XP, Vista, 7, 8, and 10.
What's New
Version 2.11: * Optimization of automatic deletion the screenshots by size and date
* Added screen dimming in the mode of selection of rectangular area
* If the Separated screenshots option is enabled and a screen area is selected on the main monitor, screenshots of similar areas are created from other monitors