This software enables permanent deletion of various items such as internet history, cookies, unused disk space, and confidential records. It ensures that files and folders are rendered irretrievable, thus providing enhanced security measures.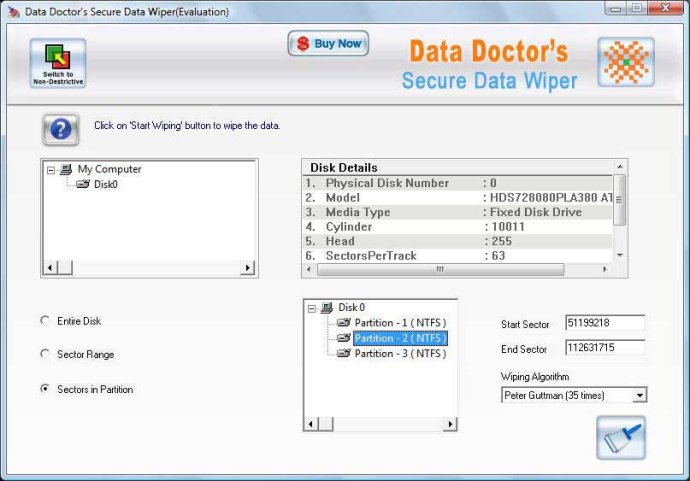 If you're looking for an advanced data removal tool, Secure Data Wiper Software is definitely worth checking out. This powerful utility is designed to wipe all data from your hard disk drive and USB removable storage media, either in full or selectively. One of its most impressive features is that it can permanently delete offline and online internet activity records, including folders, cookies, URL lists, temporary files, saved ID passwords, and browser history, improving your online privacy and security.

This data eraser program is equally effective at cleaning up recently used files history for a range of Microsoft Office and other applications, including PowerPoint, Word, Excel, Access, WordPad, and Paint. It's also easy to use, with both destructive and non-destructive modes available to wipe data from desktop and laptop computers. Secure Data Wiper Software can erase deleted files, internet files, system files, and folders, helping to speed up your computer's overall performance.

This software provides several options to select either the entire disk or a disk sector range for complete disk wiping. Secure Data Wiper Software can be installed easily and supports multiple Windows OS, including Vista, XP, NT, 2003 server, ME, 2000, and 98. The user-friendly GUI interface makes it easy to use without requiring any technical expertise.

Another important feature of this data wiper tool is that it ensures total unrecoverability of your deleted files and folders, making sure all deleted data can never be recovered by any data recovery software. Overall, Secure Data Wiper Software is a reliable and effective data removal tool that provides full data wiping capabilities, and its user-friendly interface and feature set make it a standout option for anyone looking to securely delete data from their computer.
What's New
Version 4.0.1.5: Added support for wiping internet activity traces