This software supports multiple IP and USB cameras for video surveillance. It allows users to monitor and record from multiple cameras simultaneously and view them in a single window. Email alerts are sent when motion or noise is detected. Continuous video recordings can also be created.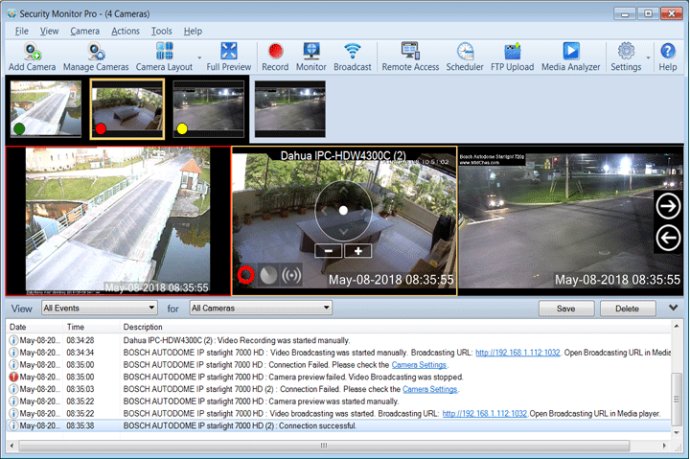 Security Monitor Pro is an exceptional video surveillance software that satisfies complex security concerns. With the ability to support multiple IP and USB cameras, it is the perfect solution for creating continuous video recordings and previewing multiple cameras in one window. You can monitor and record from up to 32 IP cameras simultaneously, each with its own monitoring and recording settings.

The software has motion detection capabilities that can send an email, record audio and video and sound an audible alarm when motion is detected. It also maintains a detailed event log, and the cameras have their own scheduled on/off times, which can be customized to suit different days of the week. Additionally, the cameras can start monitoring when the application starts up.

The remote monitoring feature keeps you on top of security from any location. Video recordings, as well as snapshots, can be automatically uploaded to your preferred FTP server, either on a scheduled basis or instantly when an alarm condition is detected. The software can also broadcast live video and audio feeds from different cameras, which can be viewed through the internet from anywhere.

Email alerts can include a snapshot displaying the cause of the alert, and the software records one minute of video from each camera as a buffer, to ensure that all recordings started by motion detection capture the whole incident. Security Monitor Pro can monitor and record from numerous IP cameras, along with any cameras connected directly to the PC, simultaneously, making it the central component of your security and surveillance system.

In conclusion, whether you are monitoring a small business or a large corporation, Security Monitor Pro provides excellent video surveillance and motion detection capabilities, helping to improve the safety and security of your establishment.
What's New
Version 6.22: Windows 8 Compatibility, USB Camera support, 32 simultaneous IP cameras, Preview all cameras on one screen, Multiple masks per zone, hidden/stealth mode, Many new MPEG4 & H.264 IP cameras supported