This software facilitates the sending of bulk marketing emails with built-in automation for unsubscribing from the recipient list. It has an email editor that can incorporate customizable templates and import contacts. The software features a block list and antispam checker to ensure successful delivery.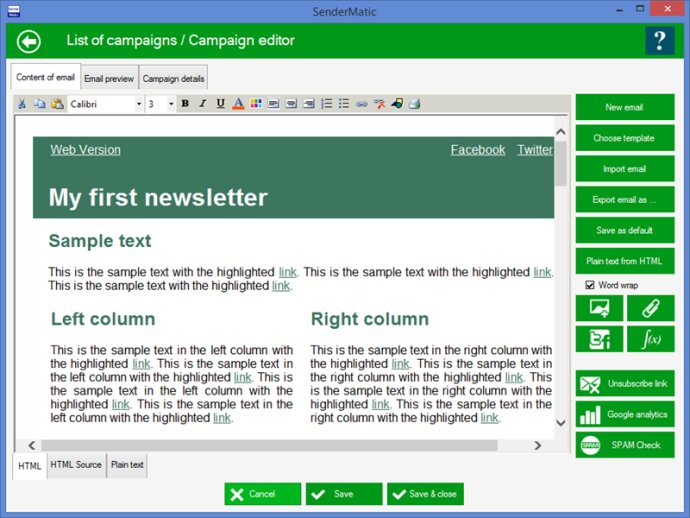 This bulk email sending software is the perfect solution for any business or individual looking to distribute email newsletters quickly and easily. With its simple interface and powerful functionality, you can manage your email marketing campaigns with ease.

One of the key features of this software is the ability to allow customers to unsubscribe automatically from a list of recipients. This ensures that you remain compliant with anti-spam legislation and keeps your recipients happy.

The software also includes a powerful SQL database, which gives you the ability to manage your email campaigns on a computer network. With three versions available, including Free, Professional and Enterprise, you can choose the version that best suits your requirements.

In addition to the powerful database, this software also includes features such as email templates, automatic subscription/cancellation, an address book with filtering, and the ability to import addresses from numerous file types and databases. You can also personalize your emails, and the software includes automatic analysis of incoming emails and a scheduler.

For businesses looking to track their email campaigns, this software supports Google Analytics and social networks. The SQL database also includes automated data backup, ensuring that your data is safe and secure at all times.

Overall, this bulk email sending software is a powerful and reliable tool that provides a wide range of functionality for businesses or individuals looking to manage their email marketing campaigns easily and effectively.
What's New
Version 3.1.4800: Supports two way authentication for gmail accounts.