SharkyScanner automates table selection and registration for Sit & Go, Spin & Go, and MTT players.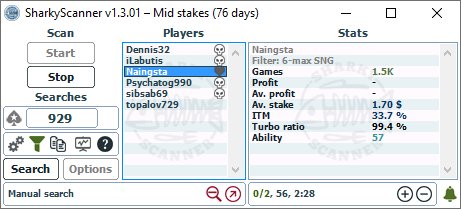 SharkyScanner is a powerful tool designed for Sit & Go, Spin & Go, and MTT players. Its main feature is its ability to automatically select tables and register you in tournaments based on the conditions you set. With this application, you can save a significant amount of time as everything is automated, and you can focus on playing the games you love while avoiding low or negative EV games.

By using SharkyScanner, you can increase your ROI/ITM as it allows you to table-select and choose games that you feel comfortable with. Moreover, it enables you to compete with players whose strength is comparable to yours, ensuring a more level playing field. Without a doubt, SharkyScanner will pay for itself in no time and start generating more profits for you, regardless of your current game skill.

In conclusion, if you're looking for a reliable automated table selection and registration tool that can help you improve your game, SharkyScanner is the perfect solution. With its intuitive interface and powerful features, it guarantees to help you achieve your goals and take your game to the next level.
What's New
Version 1.7.26: Bug fixes
Version 1.6.81: Bug fixes