ShDataRescue PDF Manager efficiently handles PDF files, allowing users to split large files into smaller parts. It works with all PDF files generated by Adobe Acrobat.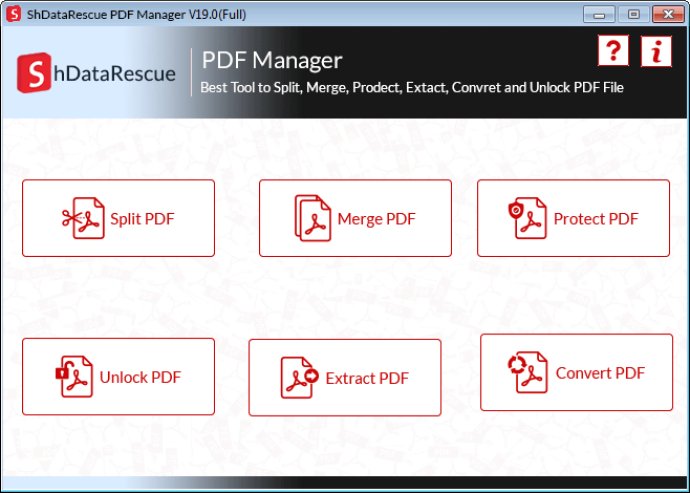 The ShDataRescue PDF Page Manager is a highly rated software for managing PDF documents, with a multitude of useful features available. This multifunctional toolkit is capable of handling even the most complicated operations on a PDF file with ease.

With this tool, one can perform six different complex operations simultaneously on a PDF document. The options include splitting, merging, encrypting, removing or unlocking passwords, extracting, and converting single or multiple PDFs at once.

PDF Page Manager can quickly and smoothly split a large PDF file into multiple smaller parts, or merge multiple PDF files into a single document with great ease. Additionally, users can quickly remove passwords from secure or protected PDF files, or add a password to a PDF file for added protection.

This PDF document manager allows users to extract or remove PDF items such as images, text, or font. It also has the capability to convert PDF document content into various formats such as images, text, or HTML.

The PDF file manager is built with intelligent algorithms that allow for managing PDF files data without any data modification or manipulation. Users have various options for splitting PDF files, and the software can also handle online PDF files by using the PDF management software online tool.

The tool's user-friendly GUI interface caters to both technical and novice users. Besides typical PDF file management, the tool also allows users to change or modify the metadata of the file, a great convenience.

This tool supports all PDF files created with different Adobe Acrobat editions and is Windows 10 compatible with prior versions. All in all, the ShDataRescue PDF Page Manager is an excellent software that offers extensive features for managing PDF files with ease.
What's New
Version 19.0: New Release