A Windows-compatible user agent for SIP (RFC 3261) that operates using command-line commands.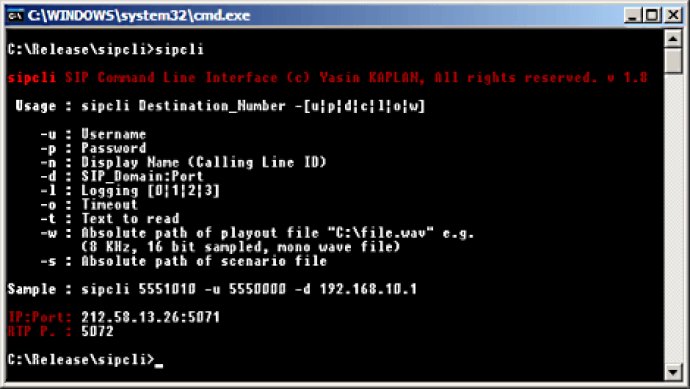 If you're looking for a command line SIP user agent that runs smoothly on Windows (Vista, Windows 7/8/10, 2008-2019 Server), SipCLI is an excellent choice. It allows you to easily make SIP calls based on RFC 3261.

One nifty feature of SipCLI is the ability to play either built-in or user-specified wave files to remote SIP endpoints, though it is worth noting that only G.711 A-Law and Mu-Law codecs are supported for playback. Additionally, you can send text messages using the -m option or specify a text message to be read aloud using the -t option, which utilizes Microsoft's TTS engine to produce audio from the text.

SipCLI also supports ENUM, based on RFC 3761, and can collect up to a user-defined number of digits from dialed endpoints. Finally, the latest version of SipCLI even supports execution of custom scenarios. Overall, SipCLI is a reliable choice for anyone looking for a command line SIP user agent with a range of useful functionalities.
What's New
Version 2.9.4: Improved RTP stack and media streaming functions. -c parameter for audio pre-encoding and -z parameter for force SipCLI to wait human input. SipCLI.ini editor is added to Scenario Editor.