SmartSHOW 3D is an advanced slideshow creator packed with stunning effects and professional features. It offers more than 100 transitions, 250+ special effects, 3D titles, and multiple audio tracks. The software supports export to over 30 video formats in high definition.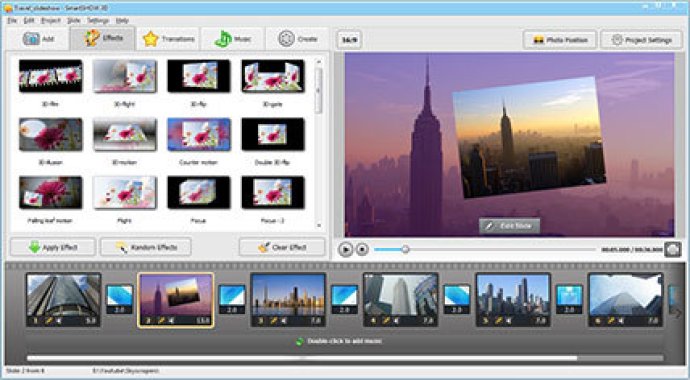 SmartSHOW 3D is an impressive slideshow maker with numerous professional capabilities. This software offers a wide range of tools to create animated slideshows, including photos, videos, music, and voice comments, along with transitions and subtitles. With a huge collection of animated templates and 3D-effects, this software is suitable for both professional and amateur photographers.

For those looking for a quick start, SmartSHOW 3D provides a slideshow creation wizard with dozens of ready-to-use slideshow themes. Users can simply choose a theme, add a folder with their photos and a soundtrack, and have their slideshow ready in less than 5 minutes.

One of the program's standout features is its ability to create animated slides with multiple layers. The user can add up to 10 photos, video clips, text captions, various shapes, and clipart, fine-tuning animation settings for each layer. The 3D camera effect can also be used for impressive motion. With 100+ original transitions, over 250 slide effects, and animated collages, users can create hundreds of unique slideshow projects.

SmartSHOW 3D offers the capability to add multiple music tracks, voiceovers, and sound effects to certain slides. Slide effects such as snow, falling leaves, bubbles, hearts, and more, allow for added creativity. These effects are based on an innovative 3D particles engine, enabling users to achieve a realistic look or create an entirely original show.

Users have the ability to burn slideshows to DVD with interactive menus or export them to over 30 common video formats in HD quality. Additionally, a smart video conversion wizard will adapt the video to be uploaded to popular platforms such as YouTube, iPad, iPhone, or various smartphones. Those who prefer to showcase their slideshows on a larger screen will appreciate the full HD 1080p output function.

SmartSHOW 3D has a convenient interface with intuitive elements that make this professional-level software accessible to all users regardless of their experience. With all these features and capabilities, this software is a smart choice for anyone looking to create impressive, original animated slideshows.
What's New
Version 19.0: New Slideshow Wizard: turn photos & videos into movies automatically.
12 modern-style slideshow templates, complete with music and animations.
Make water, clouds, smoke, fire move in your slides with Live Photo feature.
New transition effects and animated titles for intro & final slides
Version 17.0: 80+ new effects: vintage, nature, highlights & glows.
Add effects to Favorites and use convenient search.
"Snow/rain behind the window" with new mask options.
More collages and transitions for your projects.
New 5-minute templates for family & kids.
Export video slideshows for Instagram
Version 16.0: Built-in photo editor with one-click effects.
New animation effects in modern & vintage style.
More 5-minute templates for your slideshows.
Dozens of beautiful textures and masks.
Version 15.0: Easy Pan & Zoom effect creation. Built-in collection of picture frames. 20+ new transition effects. New 5-minute slideshow templates with built-in music.
Version 14.0: New 5-minute slideshow templates with built-in music. Audio points to finetune the soundtrack volume. Convenient audio waveform in the Timeline. Edit text captions on the slides with 1 click. Instant access to recently used fonts. Export for new TV & phone models
Version 12.5: All-Purpose templates for 'Slideshow in 5 minutes'. Lots of themed templates for family, love story, and vintage slideshows.
Version 12.0: Brand-new Music Collection, new animation effects, built-in collection of video backgrounds, mask layers for creating pro-level animations, undo & redo buttons in the main program window